CNN Guest Speculates Shooting Wife Was Coerced: 'Women Don't Run Those Households'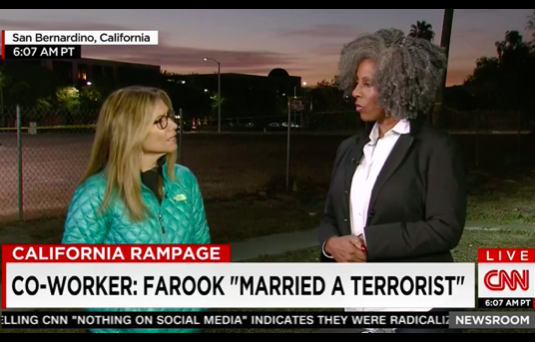 Retired LAPD Sergeant Cheryl Dorsey spoke with CNN's Carol Costello this morning, and speculated that the violence in San Bernardino this week was workplace-driven. Dorsey refuted the evidence that this attack, which left 14 dead and 21 injured on Wednesday, had ties to terrorism or fundamental jihadism.
Costello offered that law enforcement officials had found, "smashed cell phones in a garbage can near their home, they found a computer hard drive that was missing. Do those things point to terrorism as well?"
"I have a completely different slant on that," said Dorsey, who served with the LAPD for twenty years. She continued, "I don't really blame the wife and I don't view this as a terrorist jihadist type of activity. I think this is a workplace issue. And I'm not really convinced the wife was a willing participant — she's not here to tell us, right? And understanding the cultural differences, women don't run those households. So perhaps she was coerced or even forced to participate, we just don't know," said Dorsey.
Costello countered, "But they had all that firepower with them, they had covered their faces, police say it appears they were onto another mission. That wouldn't just be a workplace violence issue, would it?"
"I believe that if they wanted to really exact more damage they certainly could have in that building. They were singularly focused on the people in that room that were coworkers," said Dorsey. She added, "This seems very Christopher Dorney-esque, with a twist."
Since the segment aired, CNN has since reported on developments regarding the suspects of Wednesday's deadly attacks. According to CNN's Chief National Security Correspondent Jim Sciutto, investigators in the case have learned that Tashfeen Malik took to Facebook in support of the ISIS leader Abu Bakr Al-Baghdadi, reportedly pledging support to the Islamic State.
[image via screengrab]
—
>> Follow J.D. Durkin on Twitter (@MediaiteJD)
Have a tip we should know? tips@mediaite.com