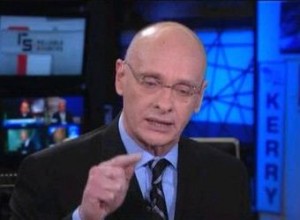 One of the biggest media stories of the past week was NBC's decision to have Sarah Palin co-host The Today Show alongside Matt Lauer to try and compete with Katie Couric's star power on GMA or something. So naturally, it came up today as one of the big topics on CNN's Reliable Sources. But TV critic David Zurawik absolutely tore into the whole thing, saying that NBC had a brand of journalism to protect, but abandoned it the second it decided to let Palin co-host the network institution.
RELATED: Palin On Co-Hosting Today: 'It Wasn't Just A Coincidence' Katie Couric Co-Hosted GMA Same Day
TheWrap.com founder Sharon Waxman applauded NBC's move as "the right thing to do," not only because she wanted to see more Sarah Palin, but because it was a way of trying to beat back any potential threat of ratings dominance coming from ABC. Marisa Guthrie said that while Palin may not be as "white hot" as she was following the 2008 election, she still attracts enough interest and controversy for a news network to potentially leap at the chance to get her to come on in any way possible.
But Zurawik had nothing but disdain for Palin's hosting gig, saying he enjoyed Jon Stewart's takedown of it last week, and after a few seconds of crosstalk with Howard Kurtz, explained why he thought it was a "bad move" for Palin.
"It showed how frightened they [NBC] are by the move that GMA is making on them, number one. I also think the fact that GMA and ABC said, 'Hey, we can throw Couric out here occasionally,' scared them and rattled them. But more importantly, bringing Sarah Palin on that show, even if it got you a little ratings bump for the day she was on and it deflected some attention from Katie Couric, was another case of Today cheapening the journalistic brand of NBC News, which runs that show."
He stated quite plainly that a news program should not ever have Palin on in such a capacity. Waxman shot back, by trying to argue that the era of the "journalistic aura" died years ago and has been replaced with MSNBC and Fox News. And, she added, it's not like The Today Show is a "showcase for great journalism" either.
Watch the video below, courtesy of CNN:
Have a tip we should know? tips@mediaite.com
Josh Feldman - Senior Editor