CNN Guests Blast Glee For 'Exploiting A Tragedy' With School Shooting Episode Solely To Boost Ratings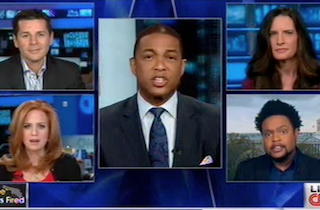 Glee has caused a frenzy today after last night's episode, which tackled the topic of school violence with a plot about a student bringing a gun to school. Critics argue it's too soon after the shooting in Newtown, while others see it as a way to keep the spotlight on the gun debate. CNN's Don Lemon invited his panel to take on the controversy this afternoon.
While Jawn Murray of AlwaysAlist.com understood that Newtown was especially sensitive to the episode, but suggested that perhaps the network affiliate there could have run an old re-run instead. The shooting episode in general, he asserted, serves to remind us not to forget what's happened — especially given the lack of progress on gun control.
"I actually commend Glee for doing this," radio host Jenny Hutt praised. "Bringing it to the forefront, having a conversation without showing unnecessary violence, I think, was a great way to deal with it."
Conservative commentator Kate Obenshain couldn't disagree more, calling out the show for "literally exploiting what happened less than four months ago." As she went to link this instance of exploitation to what she deemed President Obama's exploitation (for gun control), other panelists immediately jumped in to differ — and to stress that this wasn't about Obama.
"This is only about ratings. That's what this is about," comedian Dean Obeidallah charged. "Glee is on the chopping block to be canceled this year. The ratings went up 20 percent for this episode. They're exploiting a tragedy, no doubt about it."
He quipped that perhaps we'll see other similar episodes, like one about the Jodi Arias trial, again underlining, "Let's be honest, this is about ratings."
His remarks led to instant disagreement and crosstalk, with his critics on the panel insisting the show helped keep the issue at the forefront.
Take a look, via CNN:

Have a tip we should know? tips@mediaite.com