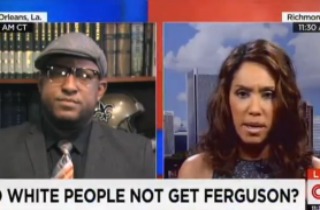 CNN guests Elon James White and Crystal Wright joined Reliable Sources host Brian Stelter to discuss whether white people "get" what happened in Ferguson. Stelter lamented the fact that there seem to be two different conversations about race occurring today — referring it to "white news, black news," a spinoff of his usual segment "red news, blue news." The conversation then turned into a fiery debate over whether black-on-black crime is a bigger problem than police violence against black people.
White, purveyor of This Week in Blackness, and Wright, who oversees the Conservative Black Chick blog, clashed over the root of the problem surrounding Ferguson. Wright took issue with Stelter grouping all black people in one camp, saying "I'm black, Elon is black, and I disagree with Elon." She said Americans cannot have an honest conversation about race because white people are too "afraid" to talk about it for fear of being "marginalized" by blacks.
"I think the real epidemic is not police violence against black men," Wright said. "The real epidemic is young black men killing other young black men."
White immediately made it known that he did not agree with that, and Wright went on to say that Michael Brown "made very bad decisions," but did not deserve to die. White said Wright was being "disingenuous," adding that it is "a bit different" to compare violence within the black community with a police officer killing an unarmed black teenager.
"This is a false narrative that people push in order to derail the conversation around our communities still being gunned down by the police," White said. He also said gang violence is different from a police officer, who is sworn to protect a community, killing an unarmed black teenager.
Watch the video below, via CNN:
[Image via screengrab]
— —
>>Follow Andrew Desiderio (@forza_desiderio) on Twitter
[Note: Mediaite intern Andrew Desiderio is a student at The George Washington University.]
Have a tip we should know? tips@mediaite.com