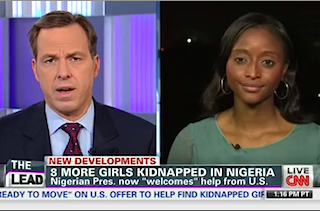 Has CNN finally moved on from the missing Malaysia Airlines Flight 370 story? Signs that the network was starting to abandon its near wall-to-wall coverage of the plane, which vanished nearly two months ago somewhere between Kuala Lumpur and Beijing, began to show late last week when the new Crossfire quietly returned to its 6:30 p.m. time slot. By Tuesday, it appears that CNN has decided to go all in on a new story that requires a more urgent international response: the kidnapping of more than 200 young girls in Nigeria.
On Monday, May 5, CNN aired more than 20 live segments about the kidnapping in Nigeria, for which Abubakar Shekau, the leader of the terrorist group Boko Haram, has claimed credit. Coverage of the situation in that country led the primetime broadcasts at 7, 8 and 9 p.m. As of 5 p.m. Tuesday, CNN had already aired 21 segments about the incident, which has escalated with eight more girls reportedly abducted.
By contrast, the Malaysia Airlines plane has only been mentioned twice so far today on CNN. All you have to do is go back one week to see how much has changed. On Tuesday, April 29, the network aired at least 17 different segments about the missing jetliner and did not mention the word "Nigeria" once, according to transcripts from TVEyes.
CNN is certainly not alone in covering the Nigeria story this week. MSNBC covered the situation at least 10 times as of 5 p.m. Tuesday while Fox News managed to tear itself away from Benghazi long enough to deliver eight segments on it. But in terms of overall coverage of the situation on Tuesday, CNN has dedicated more segments than both of its competitors combined.
The passengers who were aboard Flight 370 are gone, but more than 200 Nigerian girls are presumably alive and could be reunited with their families if the international community bands together to help. If major news media outlets had started paying attention to this story last month when the first wave of abductions occurred, perhaps it would be that much closer to a positive resolution.
Of course, the public managed to find out about the Nigeria story without CNN's help. On this past Sunday's Reliable Sources, host Brian Stelter dedicated his "Undercovered" segment to the Nigeria story, citing a tweet that asked why CNN was ignoring Nigeria in favor of Malaysia Airlines:
Question: Does anyone know how we can get @CNN to give as much attention to 234 kidnapped children as they do to flight 370?

— Heather L. Barmore (@HeatherBarmore) May 1, 2014
Stelter said CNN deserves some credit for at least having a correspondent on the ground in Nigeria, but also admitted that the amount of screen time dedicated to the story has paled in comparison to what CNN has given to the plane story. Perhaps next week he will be looking at how and why CNN chose to shift so dramatically from one story to the other.
Watch video below, via CNN:
[Photo via screengrab]
— —
>> Follow Matt Wilstein (@TheMattWilstein) on Twitter
Have a tip we should know? [email protected]