CNN: Healthy, Young Obamacare Enrollments Well Short of Number Needed for Program to Work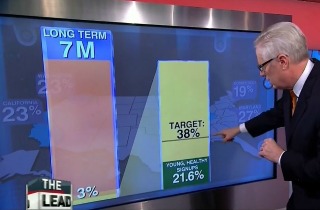 CNN reporter Tom Foreman joined The Lead anchor Jake Tapper on Friday to reveal what the network's journalists are learning about the pace of Affordable Care Act enrollments and whether the pace of signups is meeting expectations. Foreman revealed that enrollments of healthy, young people are needed to ensure the program remains financially viable.

Tapper began by reporting that President Barack Obama's administration pushed back the signup deadline for those who need an insurance policy by January 1 from December 15 to December 23. He noted that the open enrollment period has also been delayed until 2015, after the midterm elections.
"The numbers for the first month of Obamacare enrollments were dismal," Tapper observed. "Especially through the federal healthcare.gov website, and critics were quick to call it 'Obama's Waterloo.'"
"Although, it might be more accurate to call it his Water World," Tapper continued, "a pricey fiasco that left millions unsatisfied."
RELATED: For Democrats, Obamacare Unfolding Like a Greek Tragedy
Tapper turned to Foreman to delve into the numbers behind the ACA's enrollments and whether the program has successfully signed up enough young people to make sure the program remains financially sound. Foreman reported that ACA supporters should be concerned by the early enrollment statistics.
He reported that only 23 percent of California and Washington state enrollees are young, healthy individuals.
"Kentucky, touted as one of the most successful state programs, has only 19 percent in the young, healthy category," Foreman added. Connecticut, too, has only 19 percent in the young, healthy category. In Maryland, 27 percent of enrollees are of the young, healthy uninsured set.
"So far, there's not one state out there that is showing a robust response by the young and healthy, Jake," Foreman added.
Turning to the national picture, Foreman reported that, of the 7 million enrollees needed by March, the movement is only 3 percent of the way toward that goal. In order to be fiscally sound, 38 percent of the total enrollees need to be young and healthy. Currently, only 21.6 percent of enrollees meet these criteria.
Watch the clip below via CNN:
[Photo via screen grab ]
— —
> >Follow Noah Rothman (@NoahCRothman) on Twitter
Have a tip we should know? tips@mediaite.com