CNN Host Corners Fatah Leader Calling for Ceasefire: 'Hamas Just Rejected a Ceasefire'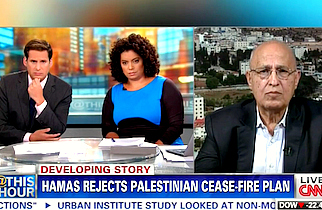 CNN anchor John Berman cornered Fatah leader and former Palestinian Foreign Minister Nabil Shaath Tuesday morning, as Shaath was stressing the necessity of an Israel-led ceasefire to halt the hostilities in Gaza.
"The question is, when are you going to stop this genocide in Gaza?" Shaath asked. "We want an immediate ceasefire to at least get us started, followed by a serious rethinking about ending the Israeli occupation and siege of Gaza."
"The Palestinian Authority proposed a 24-hour ceasefire," Berman replied. "Hamas has rejected that. Do you believe Hamas really wants peace?"
RELATED: WATCH: Israel Strikes Gaza Power Plant, TV Studios
"Hamas is in fact not the target of the Israeli bombing," Shaath said. "The Israeli bombings target civilians, the people of Gaza. These civilians need a chance to survive and live decently. …Yes, we want a ceasefire, the Palestinian people. We are for the ceasefire, a ceasefire that at least guarantees them a chance of surviving and living decently after a ceasefire is achieved. We want no more Israeli seize and destruction of Gaza."
"But Hamas just rejected a 24-hour ceasefire," Berman said again.
There followed a long pause. "I don't necessarily approve of all Hamas is saying," Shaath said. "But they need an assurance that Israel will reciprocate. Because the israelis rejected Mr. Kerry's initiative and the United Nations initiative for a humanitarian ceasefire. Now, if you want another ceasefire negotiated, Hamas needs an assurance that the Israelis will also abide by it."
Watch the clip below, via CNN:
[Image via screengrab]
——
>> Follow Evan McMurry (@evanmcmurry) on Twitter
Have a tip we should know? tips@mediaite.com