CNN Host Goes Off on GOP Rep. Over Obamacare: 'You're Getting Awfully Angry About This'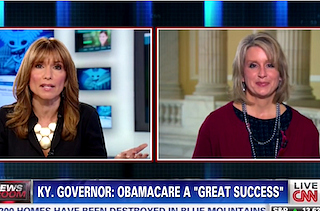 CNN's Carol Costello challenged Representative Renne Ellmers (R-NC) to respond to Kentucky Governor Steve Beshear's testimony as to the success of his state-run health insurance exchange, leading to a heated debate over whether Republicans should be emulating examples of successful implementation or continuing to oppose the law entirely.
"I know you had the clip of the governor, and god bless him," Ellmers said. "He's talking about a situation that he supports. But the American people cannot wait for this."
"Was the governor joshing us?" Costello asked. "When the governor says he's signing up 1,000 people a day, and wants to get those 640,000 people in Kentucky insurance, and they're happy about this, he's just saying that for political purposes?"
"Well, you know, let's look at again the grand scheme of things," Ellmers said. "If Kentucky's working, that's a bright spot in all of this. But let's be honest, this is a failure."
Costello wouldn't let the issue drop. "Let's say that the effort to fire Kathleen Sebelius is successful and she is fired, but Obamacare is still there, and will be there, because you can't get rid of it. So will Republicans at some point say, 'Wow, this is working in Kentucky. Maybe we should examine what's happening here and fix what's wrong with other health care exchanges across the country?'…You're discounting what [Beshear] has to say outright."
"I appreciate the governor's remarks—" Ellmer said.
"But you don't!" Costello said. "You're discounting what he has to say!"
"You're getting awfully angry about this," Ellmer said, before concluding, "Let's put affordable health care forward for all Americans. Let's put something together that really will work, not something that's dead on arrival already."
Watch the full clip below, via CNN:
[h/t TP]
[Image via screengrab]
——
>> Follow Evan McMurry (@evanmcmurry) on Twitter
Have a tip we should know? tips@mediaite.com