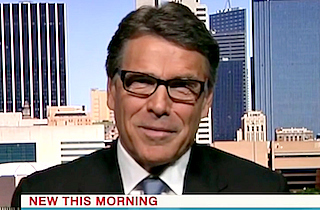 Texas Governor Rick Perry appeared on CNN's New Day Thursday morning to report on his meeting last night with President Barack Obama over the accruing border crisis in south Texas. Host Kate Bolduan grilled Perry on whether he would support Obama's $3.8 billion request from Congress to address the border crisis, a question Perry never really answered.
"I'm going to support the president to secure the border, because if he doesn't do that first, I'm not sure the American people are going to trust the president, our Congress to do what is required," Perry said. "I said, Mr. President, take the action. I said put the onus on Congress, but you first have to act, Mr. President. That's what leadership is all about."
RELATED: CNN's Bolduan Corners Rick Perry over Obama Border Conspiracy Theory
"He is pointing the finger squarely on Republicans, saying Republicans are trying to have it both ways: they want to tell him to do something, but at the same time they want to criticize him for taking unilateral action, and sue him over it," Bolduan said. "Does he have a point on that?
Perry responded that Democrats had called for Obama to come to the border. "Him showing up at the border, that's not going to do anything about it," Bolduan objected. "It's got to be dealt with either with governors like yourself or through Congress."
"So actions are really important," Perry replied. "Unless we see this president acting, the American people are going to think that he does not care about securing the border. I think that's the real political issue for this president. …I don't understand why the president has dug his heels in and basically said to Democrats and Republicans alike, 'I'm not going because it will look political.'"
Watch the clip below, via CNN:
[Image via screengrab]
——
>> Follow Evan McMurry (@evanmcmurry) on Twitter
Have a tip we should know? [email protected]