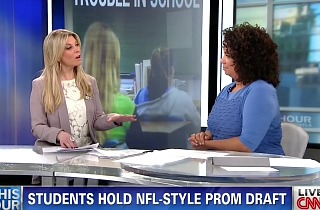 Somewhere in America, high school students are having a good time and CNN is not happy about it.
Students at a California high school recently organized a "draft" in which male students select their female dates via a system similar to how NFL teams select players. CNN cameras traveled to the school and found that none of the students of either gender seemed particularly offended by the practice. Fear not — CNN had outrage to spare.
Anchor Michaela Pereira and her guest, psychotherapist Dr. Robi Ludwig, were deeply troubled by the students' failure to bristle with indignation.
"Oh my gosh, they're being into being objectified and they don't even realize it," Ludwig gasped. Ah, the innocence of youth.
Pereira had a flashback to the days of "bachelor auctions," and asked if the country had "evolved past that." Judging only by the fact that a televised version of that phenomenon, ABC's The Bachelor and The Bachelorette, continue to enjoy among their strongest ratings of the decade, the answer is a resounding "no."
"I feel like this is a really great teaching moment," Pereira observed. And who doesn't love didacticism invading every aspect of American life? The CNN anchor said that this bit of harmless fun, which no one was offended by, would be a perfect time for these students to get a good talking-to about why they should be offended.
But on top of a "teaching moment," Ludwig said that the school administrators should levy harsh punishments on anyone engaging in the practice of a "draft." So, it's really less of a "teaching moment" and more of a lecturing and scolding moment.
Of course, public institutions like high schools –- which are allergic to any press, let alone bad press –- will follow CNN's lead. Those students who maybe enjoyed this game will have it taken from them, so as not to offend the sensibilities of adults.
But look on the bright side. At least, this was a welcome break from speculating on why a sizable minority of the public blames space aliens for the disappearance of the Malaysian passenger plane.
Watch the segment below via CNN:
[Image via screengrab]
— —
>> Follow Noah Rothman (@NoahCRothman) on Twitter
Have a tip we should know? tips@mediaite.com