CNN Host to Dem Rep.: 'Can You Actually Get Anything Done' on Border Crisis?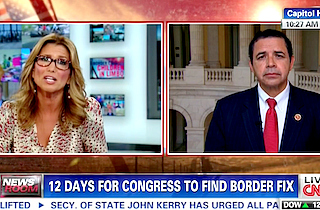 On Tuesday morning, CNN's Carol Costello asked Representative Henry Cuellar (D-TX), who has proposed a bill along with Senator John Cornyn (R-TX) to amend a 2008 law and allow expedited deportation of undocumented immigrants from Central America, whether he actually expected it or anything else to get through Congress.
"It is great that the two of you have come up with this plan," Costello said, "but you've got twelve days before Congress's month long break. Can you actually get anything done?"
Cuellar said the Appropriations Committee had already met with Department of Homeland Security Secretary Jeh Johnson to coordinate with the administration.
RELATED: Texas Democrat on CNN: White House Not Happy I Criticized Obama
"The emergency bill…has to be done," Cuellar said, referring to President Barack Obama's request for an additional $3.7 million to combat the immediate crisis. "Certainly the emergency bill has to be done, we hire more judges and do what we need to do. But at the same time if we can have the policy change that we're proposing added to the emergency bill, then I think we can get it done if we work together."
"Let's say you can't get it done," Costello said. "Should lawmakers actually go on vacation while these kids are staying in deplorable conditions along the border?"
"No," Cuellar replied. "Again, we have to get the job done…We should stay in Washington, D.C. until we find a solution."
Watch the clip below, via CNN:
[Image via screengrab]
——
>> Follow Evan McMurry (@evanmcmurry) on Twitter
Have a tip we should know? [email protected]