CNN Host to Trump Supporter: Did You Watch the Last Segment When We Talked About Conspiracy Theories?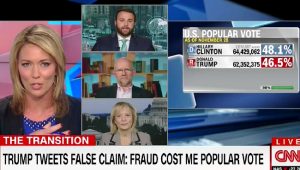 During a panel discussion on CNN this afternoon, CNN anchor Brooke Baldwin hit back at one of her guests who indicated that President-elect Donald Trump wasn't being completely false when he tweeted out that millions illegally voted for Hillary Clinton.
Trump supporter and New York City Council member Joe Borelli responded to Baldwin after she asked him about the false claim in his tweet and why he was harping on it considering he won the election.
"Number one, I don't think it's entirely false," Borelli stated, all while Baldwin made a bemused face. "Albeit the number might be inflated."
After Borelli remarked about a Pew Research Center study that showed there were 1.7 million deceased Americans on the voter rolls and nearly 3 million registered at more than one address, Baldwin interrupted him to ask him the following:
"Joe, did you watch the last the last segment when we talked about the conspiracy theories?"
The Republican politician replied that he had seen the segment in which Baldwin and CNN's Dylan Byers explained how Trump's claim was false and how he likely got the info from InfoWars. However, he added he was happy to see that Jill Stein and Democrats now believe voter fraud does exist with the call for recounts.
Clinton supporter Hillary Rosen then chimed in and pointed out that the recounts are not due to claims of in-person voter fraud but over other matters, such as potential hacking and how close the margins were.
Watch the clip above, via CNN.
[image via screengrab]
–
Follow Justin Baragona on Twitter: @justinbaragona
Have a tip we should know? [email protected]