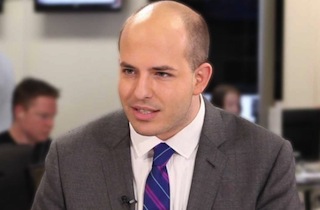 According to two sources close to the negotiations, CNN is actively recruiting New York Times media reporter Brian Stelter.
The media reporter would cover the television and entertainment beat for CNN, much as he has since joining the New York Times in 2007. The sources said CNN could announce the decision as early as next week. Neither CNN nor the Times would confirm the rumor.
Stelter has guest hosted the cable network's weekend media show Reliable Sources a few times since former host Howard Kurtz moved to Fox News.
Stelter is most recently the author of Top of the Morning, about the recent competition between network morning shows.
UPDATE 8:43 a.m.: Shortly after the news broke, Politico's Dylan Byers reported that CNN had in fact hired Stelter, and that the media reporter will be leaving the Times before the end of the month. Stelter will host Reliable Sources and file stories for CNN.com during the week.
UPDATE 5:30 p.m.: A look at the Nielsen ratings for CNN's Reliable Sources and Fox's MediaBuzz, which have been going head-to-head on Sunday mornings for the last several weeks, shows CNN significantly trailing Fox. Over the course of the 10 weeks since MediaBuzz premiered, it has averaged 862K in total viewers and 168K in the 25-54 demo. That's 90% higher than Reliable Sources' 454K total viewers and 34% higher than its 125K in the demo. Since leaving CNN, Howard Kurtz has managed to grow his average audience 86% in total viewers and 21% in the demo.
[h/t LA Times]
[Image via BI]
——
>> Follow Evan McMurry (@evanmcmurry) on Twitter
Have a tip we should know? tips@mediaite.com