CNN Insider Says Jon Klein Firing Was "Olive Branch" For Internal Frustrations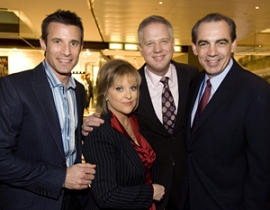 Ken Jautz is now running CNN, but in the eyes of some of the staff it might be more notable that Jon Klein is no longer running the network.
The firing has brought out some former and current staffers speaking openly about their positive reaction to the move. We spoke to several people inside CNN about the feeling Friday, and Klein himself.
Publicly, former CNN correspondent Jamie McIntyre wrote this column about the "de-Kleining" move. "The fact is Jon Klein has overseen the slow, and sometimes not-so-subtle tabloidization of CNN, as he has systematically shed programming that aspired to provide context and perspective, in favor of ratings-seeking formulas aim more at fanning the flames of outrage and emotion," wrote McIntyre. "There are still islands of excellence on CNN, and Klein points to some of them in his valedictory missive. Candy Crowley. Fareed Zakaria. But those islands of excellence are increasingly threatened by an rising tide of mediocrity and cynical tabloid sensationalism." More subtly, former correspondent Miles O'Brien tweeted, "There is justice in this world. You just have to be patient."
Klein tells Mediaite he hasn't read McIntyre's piece. "I have not been gorging on the coverage," he says. "I'm ok with all this. I really maintain nothing in life is permanent, everything comes to an end sometime, it was a hell of a lot of fun, and very rewarding while it lasted, and I'm looking forward to the next thing."
We hear when Jim Walton made the announcement to the staff that Klein was being replaced by Jautz there was an "extended round of applause." Jautz said he was keeping the executive structure – with the people reporting to SVP of programming Bart Feder remaining in place, as well as the political team of Sam Feist and David Bohrman. He also implied he was "keeping the door open for more character-driven personality stuff," but impying the network would push to be more entertaining without being more opinionated, according to one insider.
"The internal level of frustration had reached a fever pitch," said one CNN source, who described the timing of the firing as an "olive branch" from the external forces outside of CNN.
"I'm not dwelling on that stuff," said Klein. "We all gave it the best shot we possibly could."
The source said the move "breathes a new life into this place," and described Jautz as both the "logical heir apparent" and the "opposite of Jon Klein." But it's not going to be easy. "This is a tough thing to inherit," said an insider.
In June I asked Klein if he thought the Spitzer/Parker show and the rest of the revamped prime time would be "do or die" for him and the network. "Is it ever do or die? Of course not," he said. "It's an ongoing evolution process, and we have high expectations of all these new initiatives we're planning." In this case, however, as Klein himself put it, he "got shot" before Parker Spitzer even aired.
We'll have more from Klein later.
(This photo is from nearly four years ago – but wow, what a group!)
Have a tip we should know? tips@mediaite.com