CNN: Insurance Insiders 'Fear Retribution' from WH Amid Pressure to 'Keep Quiet' About Obamacare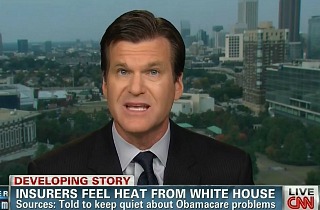 According to CNN investigative reporter Drew Griffin, the White House is pressuring trade associations and insurance providers to keep quiet about the changes the Affordable Care Act is creating for some people's health coverage plans. One industry official told CNN on the record that the White House is applying "massive pressure" to combat the impression that the ACA is resulting in the cancelation of some plans.

"If an insurance executive is quoted, speaks out, says anything negative about the Obamacare roll-out, they, or more likely their bosses, are to get a call from inside the White House asking them to explain the comments," Griffin reported. "It's being perceived as pressure to keep quiet."
Griffin said that multiple "sources within the industry" are telling him and his CNN colleagues that "there is a reluctance to speak out because of these phone calls."
One insurance industry insider and outspoken Obamacare critic, Robert Laszewski, told Griffin that "The White House is exerting massive pressure on the industry, including the trade associations, to keep quiet."
Griffin said that off-the-record sources within the industry "fear retribution from the White House."
White House Press Sec. Jay Carney told Griffin that the accusations are unfounded. "In addition to calling the allegation preposterous," Griffin said. Carney told him that insurance industry insiders are only talking about the ACA because they are trying to explain new, affordable options to their customers.
Watch the clip below via CNN:
[Photo via screen grab ]
— —
> >Follow Noah Rothman (@NoahCRothman) on Twitter
Have a tip we should know? tips@mediaite.com