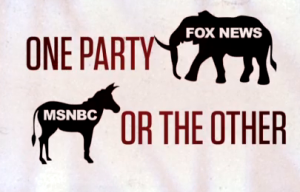 In the face of midterm election coverage, the Rally to Restore Sanity, and Keith Olbermann's suspension, it may seem as though every news network is hopelessly biased. In a new promo, however, CNN argues that it's a port in the partisan storm—after directly calling out its two biggest cable competitors left-leaning MSNBC and right-leaning Fox. And, while its true that prime-time programming have a partisan bent, the oversimplified description is a false equivalency that overlooks daypart news programming as well as overall ratings and political impact of both.
The ad is simple and direct. It's nothing more than a few pointed sentences, set against a faded CNN logo and some rhythmic music:
When you support one party or the other [we see a "Fox News"-labeled elephant and an "MSNBC"-labeled donkey], that's OK—if you're a voter. But not if you are a news network. If you want to keep them all honest without playing favorites, the choice is clear. CNN: the worldwide leader in news."
The network is clearly hoping that its promo's aggressive reasonableness might be enough to convince jaded Americans that CNN really does put unbiased coverage first. But while Jon Stewart and other fans of rationality might love the spot, the harsh reality is that biased network get better ratings—even if they're less concerned with journalistic ethics. Either way, it's nice to see CNN actively playing up its spot in the middle, rather than trying to shift in one direction or the other. Video below.
Have a tip we should know? tips@mediaite.com