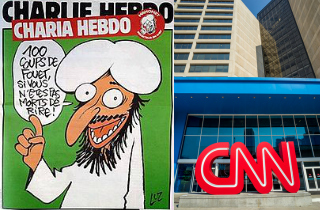 Per an internal memo (first obtained by Politico), CNN isn't showing the controversial Charlie Hebdo cartoons, in which the French satirical magazine caricatures the Islamic prophet Muhammed.
The magazine's offices were attacked Wednesday afternoon, leaving twelve dead.
The images have presented a challenge for western publications; New York Daily News blurred the offending covers, while the Associated Press, per a policy of not publishing provocative images, removed photos of the covers from its image database. Multiple publications, including Mediaite, have published the cartoons.
The memo states:
Although we are not at this time showing the Charlie Hebdo cartoons of the Prophet considered offensive by many Muslims, platforms are encouraged to verbally describe the cartoons in detail. This is key to understanding the nature of the attack on the magazine and the tension between free expression and respect for religion.

Video or stills of street protests showing Parisians holding up copies of the offensive cartoons, if shot wide, are also OK. Avoid close-ups of the cartoons that make them clearly legible.

It's also OK to show most of the protest cartoons making the rounds online, though care should be taken to avoid examples that include within them detailed depictions of the Charlie Hebdo cartoons.
"As this distressing story continues to evolve we are actively discussing the best way of addressing the key issues and images across all of our platforms," a CNN spokesperson told Mediaite. "Those conversations will continue throughout the day and beyond as the story develops."
UPDATE — 8:36 p.m. ET: CNN did air the cartoons earlier this morning on New Day.
[Image via f11photo / Shutterstock.com]
——
>> Follow Evan McMurry (@evanmcmurry) on Twitter
Have a tip we should know? tips@mediaite.com