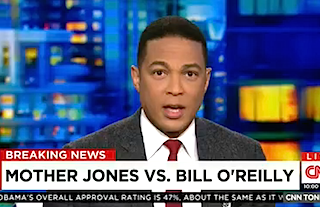 CNN's Don Lemon opened the 10 p.m. hour tonight with the report from Mother Jones that highlights "inconsistencies" in stories Fox News' Bill O'Reilly has told over the years about being in the Falkland Islands "war zone."
"Brian Williams may not be the only journalist with credibility issues," Lemon said, immediately drawing a parallel between the suspended NBC Nightly News host and Fox's most popular primetime host.
Brian Stelter called O'Reilly "the Brian Williams of cable news" in that he's the "number one rated opinion anchor on cable news in the United States. He has the biggeest audience than anybody on cable news, so he is the biggest, in some ways, target, and the most important, in some ways, deserving of scrutiny."
For the next nearly 15 minutes, Lemon, Stelter and commentator Frank Sesno dissected exactly what O'Reilly has said about his wartime experience in the past as well as what he told several online news outlets — including Mediaite — Thursday night in response to Mother Jones.
"I never said I was on the Falkland Islands, nobody was," O'Reilly said in one of those interviews, but as CNN showed in a clip dug up by Mother Jones, the anchor once told a story on his show about being "in a war zone in Argentina, in the Falkland Islands," where he said he helped a photographer who fell and hit his head.
"He is not a news anchor like Brian Williams is so people may assume the best or worst of Bill O'Reilly and they may not change their views about him," Stelter said. "But I do think that among people who are predisposed of being skeptical of Bill O'reilly, it is going to stick."
Sesno, who said he was also covering the Falkland Islands war from Argentina at the time, made it clear, "That wasn't a war zone," and suggested that to describe it as such is misleading.
"When you listen to this piece tape and what he's saying, listen to the number of times that he is talking about himself, 'I, I, I,'" Sesno continued. "And Brian Williams was doing the same thing — 'I, I, I' — this is the admonition to take seriously. We are not the story. The journalists should not be the story. And when we become the story and start talking about 'I' all the time, it's not a very big leap until 'I,' 'we' get in trouble."
As Stelter explained, O'Reilly has handled the accusations against him very differently from Williams, doing a full court press Thursday night to combat the narrative and discredit Mother Jones' Washington Bureau Chief David Corn as "a despicable human being." The Fox host also told Mediaite the story "total bullshit," a line that Lemon accidentally forgot to censor when he repeated it aloud on CNN.
Watch video below, via CNN:
[Photo via screengrab]
— —
>> Follow Matt Wilstein (@TheMattWilstein) on Twitter
Have a tip we should know? tips@mediaite.com