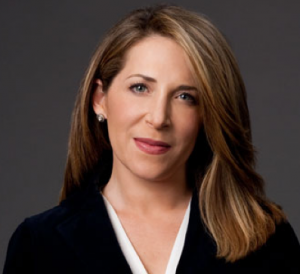 CNN has named Jessica Yellin its new chief White House correspondent, replacing Ed Henry. A CNN insider tells Mediaite Yellin has been the network's choice since Spring. Yellin had been serving as the network's national political correspondent and as a fill-in anchor on programs like Situation Room. In her new role she will lead the network's political coverage from the White House as President Obama seeks a second term in office. Yellin begins her new role today.
"Jessica Yellin has emerged as one of the leading political reporters in Washington, " said CNN's Washington bureau chief Sam Feist, who made the announcement this morning. "Jessica's assertiveness along with her clever insight made her one of the top reporters of the 2008 campaign and has already set her apart in her reporting on the 2012 campaign. We're thrilled Jessica will now bring her outstanding political journalism to our White House coverage."
"This is a dream assignment," said Yellin. "I'm honored CNN is putting its faith in me and humbled by the responsibility of covering the White House during these challenging times—and as we head into an election. I look forward to providing our viewers an honest assessment of the policies and the politics that affect our lives everyday."
In a 2008 profile in New York magazine, Yellin described herself as a sleep-deprived caffeine addict who lives and breathes politics:
What type of coverage intimidates you?

I'm not sure what intimidates me. What scares me is the thought that I might be missing a story. At any time. Like right now, while I'm answering these questions.

What's your caffeine of choice?

What's NOT my caffeine of choice? I usually travel with a minimum of two and a maximum of four beverages at one time.
Here's Yellin's bio, from CNN:
Jessica Yellin is a national political correspondent based in Washington, D.C., tasked with reporting on the most important stories on politics, policy and culture for such programs as The Situation Room with Wolf Blitzer and John King, USA. Yellin joined CNN as a Capitol Hill correspondent in August 2007.

As a member of the Peabody Award-winning Best Political Team on Television, Yellin played a key part of the network's innovative America Votes 2008 election coverage, including a notable appearance as a hologram in CNN's Election Center headquarters in New York City. Throughout the campaign, she traveled to key battleground states to cover and interview the candidates.

Prior to CNN, Yellin was a White House correspondent for ABC News. She began with ABC in July 2003 and reported on politics and culture for such programs as World News, Good Morning America and Nightline. She has interviewed Presidents Bill Clinton and George H. W. Bush and first lady Laura Bush. She has also reported from around the globe, including Russia, China, Europe, Latin America and Mongolia.

Prior to joining ABC News, Yellin was an overnight anchor and correspondent for MSNBC. She covered the 2000 recount in Florida as a general assignment reporter at WTVT-TV in Tampa. She began her broadcast career in 1998 as a general assignment reporter for Orlando's 24-hour cable news channel, Central Florida News 13. In 1999, she was named morning anchor.

Yellin's work has been published in The New York Times, the Los Angeles Times, Details and Entertainment Weekly. She was a Los Angeles-based reporter for George Magazine. Prior to that, she served as front-of-the-book editor at Los Angeles Magazine, where she contributed and edited stories on politics, Hollywood and cultural issues.

Yellin graduated magna cum laude and Phi Beta Kappa from Harvard University and is from Los Angeles.
Have a tip we should know? tips@mediaite.com