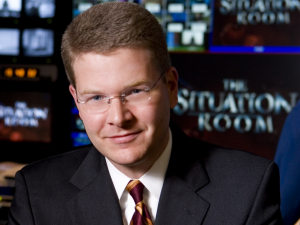 Ken Jautz, executive vice president of CNN/U.S. has announced that Sam Feist, political director and vice president of Washington-based programming for CNN, has been promoted to Washington, D.C. bureau chief and senior vice president. Feist will oversee daily operations of the bureau and lead all newsgathering and programming from the nation's capital. Feist will assume his role effective immediately and will report to Jautz.
"For two decades at CNN, Sam has demonstrated his commitment to serious journalism and strong political programming," said Jautz. "His experience, vision, and understanding of our nation's capital will ensure CNN's Washington bureau and its coverage remain second to none."
"I couldn't be more excited to take on this new role and build on the great journalism and the tremendous expertise of the CNN Washington bureau," said Feist. "It is not only one of the largest news bureaus in the world, it is undoubtedly one of the finest. Leading this outstanding team at a time of dynamic change in our industry is invigorating and humbling."
Since January 2009, Feist has served CNN's political director and vice president of Washington-based programming, overseeing Washington programming, including John King, USA, The Situation Room with Wolf Blitzer, State of the Union with Candy Crowley, and Reliable Sources. As political director, he also coordinated all facets of CNN's daily political coverage including the production of political specials such as primary nights, conventions, and election nights.
Here's Jautz's internal memo:
TO: CNN Staff

FROM: Ken Jautz

DATE: May 17, 2011

As many of you know, Mark and I have led an extensive search for the right person to lead the Washington bureau over the last several weeks. We have met with many impressive candidates, and we are pleased that the most viable candidate has come from within CNN. Today, I am announcing that Sam Feist will be taking the position of senior vice president and Washington, D.C. bureau chief.

Sam has a unique combination of skills that will allow him to not only lead the bureau, but to strengthen it and build on the successes of the last election. As many of you know, Sam has been our political director for the past five years, has extensive political and government contacts, and has produced or helped produce much of the key DC programming in recent years. He has also served for nearly 20 years in the CNN bureau in a variety of roles.

Sam is deeply committed to maintaining the highest standards of journalism and ensuring the credibility of the CNN brand. Moreover, he brings tireless enthusiasm and unrivaled passion for politics to this position.

Please join me in congratulating Sam as he takes on his new role. Below is the press release going out momentarily.
Ken
Have a tip we should know? tips@mediaite.com