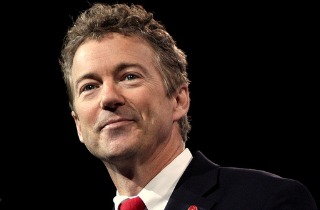 Many were surprised Sunday afternoon to read that Republican presidential candidate Rand Paul will be appearing on the main stage of the CNN Republican debate Tuesday. After all, numerous media outlets (Mediaite included) had reported in the previous week that Paul had virtually no chance of making the debate based on an objective reading of the polling data.
In order to make the debate, a candidate needed to earn an average of 3.5 percent nationally or 4 percent in Iowa and New Hampshire over a set time period. But because CNN released a list of pollsters they would rely on, it would seem Paul did fail to meet the requirement to end up on the main stage.
Supposedly, Paul got in the debates because of his Iowa polling falling way short nationally and in New Hampshire. In the five Iowa polls by accepted pollsters and within the dates outline by CNN, Paul managed to earn:
2 percent (CNN/ORC, Nov 4)
5 percent (Quinnipiac, Nov. 22)
3 percent (CNN/ORC, Dec. 6)
4 percent (Monmouth, Dec. 6)
5 percent (Fox News, Dec. 10)
Do the math, that comes out to a 3.8 average, short of the 4 percent requirement. Including the polls that CNN's standards omit only lowers Paul's average.
So how did Paul end up on the main stage? Simple: he probably cried his way in.
The first clue was when CNN pushed back its announcement of the debate lineup from 9 AM Sunday to noon. The official line was because a Fox News poll was released at the same time showing Paul with good numbers. But again, the math was simple; everyone went into Sunday knowing Paul needed to poll at 6 percent in the Fox poll in order to make the debate.
But the Paul campaign has been extremely vocal in kicking up a huge fuss ever since it first became clear that he would miss the debate requisites. "He has over 400 fully operational grassroots groups, and his campaign and related entities have raised $22 million for this race. It is simply not consistent with facts to attempt to force the campaign off of the main debate stage," the campaign argued.
CNN claims: "Paul, who was in danger of being removed from the main stage, was saved at the 11th hour by showing viability in Iowa in a Fox News poll released Sunday morning," the CNN report reads. Note what CNN doesn't say, that the viability shown in the Fox News poll was enough to put Paul over the 4 percent requirement (it wasn't).
The following paragraph highlights the real issue: "'In the light of new polling released this morning and in the spirit of being as inclusive as possible, CNN has decided to include Sen. Rand Paul in the prime time debate,' a CNN spokeswoman said."
Now call me crazy, but if Paul had actually earned his way on the debate stage, why is CNN citing "the spirit of being… inclusive," why did they have to "decide" to include him, and why did they feel a need to issue a statement? That sounds a heckuva lot like a tacit admission that the decision to have Paul on the stage was a special accommodation.
I'll ask the same question I did when CNN seemingly broke its own rules to let Carly Fiorina in: what's the point of even having debate qualifications if candidates who complain loud enough get in anyways? And how does that jive with CNN's stated goal of having an objective, fair debate, where no candidate is favored over the others?
At least for Fiorina, a) the debate requirements were kind of dumb to begin with, b) there was a strong push by Republican voters to include her, c) Fiorina was polling very well and receiving loads of media attention, and d) we received clear confirmation that a rule change had occurred. In this instance, it feels different for a candidate who — let's be blunt — has been treading water for six months and 97% of Republican primary voters wouldn't have missed.
If this wasn't irritating enough, the Paul campaign had the gall to publicly gloat Monday, slamming the media outlets that reported that he was unlikely to make the debate. "Some in the media have no integrity, instead of waiting until polling is actually announced they try to predetermine outcomes, only to once again find egg on their face," comms director Sergio Gor told Breitbart.
Gor is right by the way; outlets like Mediaite, The Hill, Bloomberg, The Washington Examiner, and Politico misreported this story because "some in the media" have no integrity. But it wasn't the media outlets that accurately reported that Paul's numbers weren't good enough that have zero integrity.
[Image via screengrab]
——
>>Follow Alex Griswold (@HashtagGriswold) on Twitter
This is an opinion piece. The views expressed in this article are those of just the author.