CNN Newsroom's Don Lemon Talks To Mediaite About Whitney Houston, Nancy Grace And 'Death Of A Diva'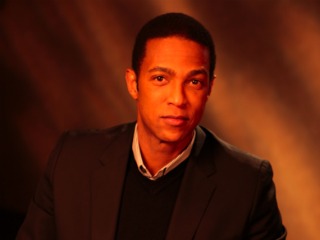 As CNN continues its reporting on the death of Whitney Houston, CNN Newsroom anchor Don Lemon — along with prime time host Piers Morgan and Starting Point's Soledad O'Brien — prepare to take part in the network's weekend-long coverage of Houston's funeral, her life, and her legacy.
We spoke with Lemon about how CNN — and the media in general — has been handling coverage of Houston's passing, as well as the subsequent investigation into her death.
RELATED: Whitney Houston Dead At 48
As an anchor, he told us, he does his best to "handle with care" the information presented to him, particularly in stories such as this, when so much information and rumor color the discourse. "If someone comes on air and hints at rumor," he added, "I'm going to clean it up."
So what, then, are his thoughts on HLN host Nancy Grace's controversial comments to CNN regarding the investigation into Houston's death?
RELATED: Nancy Grace On Whitney Houston's Death: 'Who Let Her Slip, Or Pushed Her, Underneath That Water?'
"Someone sent me something this morning," he shared, "about 'Don Lemon comes on to clean up something Nancy Grace said.' You know what the interesting thing is? I did not even see Nancy Grace on our air. I didn't even hear it. I was posed a question by the anchor on the air that talked about some sort of rumor or innuendo. And I said, 'Whoa. Let's everybody stand back and take a deep breath. Because I've been talking to the coroner and talking to the people here. We don't know what. None of that is CNN's reporting.'"
He hasn't been specifically referring to Grace, he continued, simply "giving a word of caution" as a journalist with experience. "Everyone wants to be first, everyone wants to get the scoop," he adds. "But what scoop is there to get when somebody is dead?"
Continuing his commitment to the story, Lemon will be attending Houston's funeral in New Jersey on Saturday, as well as anchoring his show and taking part in the CNN Presents: Death of a Diva special report. The documentary, he told us, will focus on "her life, her talent, her achievements and struggles, even her addiction. Everything."
Lemon shared that, for the special, he sat down with Access Hollywood's Shaun Robinson, who had conducted Houston's last sit-down interview.
RELATED: NJ Governor Chris Christie Gets It Right On Half-Mast Flags For Whitney Houston
"It was just one of the most emotional interview I've had," Lemon revealed. "You know, when you're around that same age and you're a young African American girl and you may have been looking at television or magazines or the newspaper and you didn't see anyone who looked like you so your beauty was validated. Before Whitney Houston was even a star as a singer, she gave validation to a lot of young African American girls across the country." He recalled how Robinson nearly broke down while talking to him, struck with the realization that Houston's influence played a part in the decision to carve a role for herself in the world of entertainment reporting.
You can watch a bit of Lemon's emotional interview with Robinson here, courtesy of CNN.
"Listen, it's not all roses," Lemon admitted. "We're going to honor her, her talent. I mean, who can make the national anthem into a top hit on the radio? Nobody can do that but Whitney Houston. So we have to give her her props. Even though we know that, towards the end, she lost her way. She started losing her voice. It's not all roses." And the documentary will reflect all of that, he added. The heights of her talent and influence, and the personal lows she experienced throughout her long career.
Because her lows, he told us, hold an important lesson. "We're going to talk to talk about the days before her death, the people who saw her in the last hours of her life in hopes of maybe helping some people who might have problems with addiction, not only illegal drugs, but prescription medication as well."
CNN's weekend coverage of Houston's death and funeral will begin at 11 a.m. Saturday, February 18th on CNN and CNN International with Piers Morgan, Soledad O'Brien and Don Lemon anchoring the network's live global coverage of the singer's New Jersey funeral.
CNN Presents: Death of a Diva will air on Saturday and Sunday at 8p.m./11p.m./2a.m. (ET). Dr. Sanjay Gupta and Randi Kaye will host the 3-story magazine special on Whitney Houston's life and death, including Lemon's interview with Access Hollywood's Shaun Robinson and others impacted by the singer's life and legacy.
Photo credit: Todd Steinhauer/CNN
Have a tip we should know? tips@mediaite.com