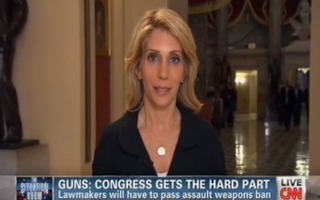 CNN's Dana Bash reported on Tuesday that the President Barack Obama may be forced to use executive orders to pass new restrictions on gun and ammunition ownership because he lacks support for new laws in the Democratic-controlled Senate. The political environment in the upcoming midterm elections may not be as favorable to Democrats as 2012 was, and even Senate Majority Leader Harry Reid (D-NV) is expressing his reservations about proceeding with new gun control measures hastily.

RELATED: NY Times Buries The Lede: Anderson Cooper's Ratings Surge At 8PM
In a CNN report on the state of Congress' appetite for new gun control measures, Reid's quote tolerance for new gun control measures was described as "lukewarm."
"The numbers around the country – most people favor having the ability of people to carry guns," Reid told PBS Las Vegas on Friday. "The American people want us to be very cautious what we do."
CNN quotes an anonymous House GOP aide who said that the lower chamber cannot act on gun control measures unless the Senate acts first. Reid was clear that he does not favor passing new laws "just to say we've done something."
CNN notes that Senate Democrats facing reelection in 2014 have recently become aware of their own vulnerability. A look at the electoral landscape heading into the 2014 midterms makes it clear why Senate Democrats would be trepidatious about passing new gun control measures.
21 Democratic seats, won in the 2008 pro-Democratic wave election, are up next year. Several Democrats have opted to retire or remain undecided as to whether they will run again in 2014. Six Democratic senators currently represent states which Mitt Romney carried when the national electorate was heavily Democratic. Midterm election years feature a smaller turnout than presidential elections, and the partisan makeup of the total electorate is usually more balanced.
President Obama will reveal to the nation his plans to enforce new gun laws on Wednesday, but few doubt that the president would prefer to see new laws passed by Congress as opposed to a fiat which can be easily repealed by a succeeding president.
Given the tenor of the media coverage after the Newtown massacre which often leaves viewers with the impression that the nation is clamoring for new gun laws immediately, it is somewhat surprising that Congress is being so cautious.
Congressional caution is, however, explained by public opinion surveys. A Washington Post-ABC News poll of 1,001 adults, conducted January 10 – 13, showed that a narrow majority of respondents are amenable to new gun laws. However, they said that Congress and the White House should tackle the economy, federal spending and tax code reform first.
Members of Congress who expend weeks debating new gun laws will be subject to the same tarring that Republican office seekers leveled at Democratic politicians in 2010 – essentially, that they litigated health care legislation when the economy should have been priority number one.
An executive order by the president will give Democrats time and cover necessary to codify those orders into laws, but the charge that Congress' priorities – and the priorities of Washington Democrats in general – are not those of average voters may still gain traction as the next election cycle heats up. Combined with the headwinds the president's party historically faces in midterm election cycles, Democrats in Congress have much to fear from hastily passed gun control legislation.
> >Follow Noah Rothman (@Noah_C_Rothman) on Twitter
Have a tip we should know? tips@mediaite.com