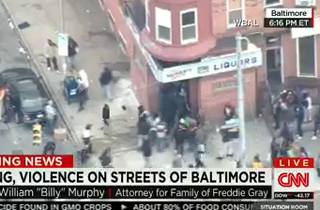 This Saturday, CNN was harshly criticized for ignoring the simmering protests in Baltimore over Freddie Gray, a black man who died mysteriously at the hands of the police, while covering the heck out of the White House Correspondents Dinner. Now that the protests have transformed into riots, CNN is on the scene.

The above is the general narrative held by media critics all over:
On Saturday CNN broadcasts a dinner party instead of covering #Baltimore. Two days later, it declares "the city is on fire." #responsibility

— Alec MacGillis (@AlecMacGillis) April 27, 2015
And while observing what appears to be a few blocks in Baltimore, Wolf Blitzer went between baffled, overwhelmed, and indignant when asked to stop showing images of the looting for fear that they could incite even more young people to start looting. "You would think if we're showing these pictures, these individuals, these young people — whether they're Crips or Bloods or Black Guerrilla Family — they know eventually the police will get there and start making huge numbers of arrests," he said, referring to the three gangs that have allegedly joined forces to take out white Baltimore cops.
That, plus quite a few other narrations of every little thing CNN observed going wrong in Baltimore during live coverage, got some blowback on social media:
There are so many levels to my contempt for CNN's coverage of the Baltimore riots.

— Conor Friedersdorf (@conor64) April 27, 2015
Looks like @CNN and Wolf Blitzer working hard to narrate what's going on in #Baltimore . Still haven't figured out they lack credibility.

— Greg Carr (@AfricanaCarr) April 27, 2015
And then, occasionally, someone would exhibit plain ol' obliviousness towards the situation on the ground:
"I didn't know what a tough and diverse city" Baltimore is, says a CNN reporter // ???????????????????????????????????????????????????

— Adam Serwer (@AdamSerwer) April 27, 2015
Could anything get worse than that?
On way to #Baltimore. See you on @CNNTonight at 10pEt.
#FreddieGray #BaltimoreRiots pic.twitter.com/W5qMqtHskv

— Don Lemon (@donlemon) April 27, 2015
Okay, we stand corrected.
Watch a smashcut of some choice moments below, via CNN:
[Image via CNN/screenshot]
— —
>> Follow Tina Nguyen (@Tina_Nguyen) on Twitter
Have a tip we should know? tips@mediaite.com