CNN Panel: Was Doctor's Conservative Speech In Front Of Obama 'Offensive,' 'Inappropriate'?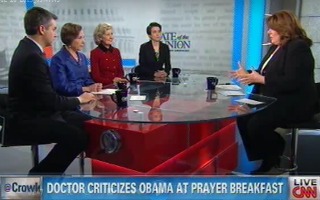 Dr. Benjamin Carson, a pediatric neurosurgeon at Johns Hopkins Hospital, raised a number of political eyebrows in Washington this week when he took to a stage he shared with President Barack Obama at the National Prayer Breakfast and advocated a number of conservative reforms. On Sunday, the panel guests on CNN's State of the Union weighed in on whether it was appropriate for Carson to use the forum of the prayer breakfast to advocate for free market reforms to healthcare and a flat tax code.

RELATED Conservative Doctor Tells Hannity Why He Spoke Out Against President Obama's Policies To Obama's Face
"Whoa," said CNN anchor Candy Crowley after playing a portion of Carson's speech in which he linked the biblical principle of proportional tithing to a flat taxation system.
"This was really interesting, number one for the venue, number two for the person doing this," Crowley said.
Former Sen. Kay Bailey Hutchison (R-TX) said that this moment reminded her of an earlier National Prayer Breakfast she attended when Mother Teresa took a stand against abortion. She said that the room became uncomfortable after Mother Teresa came out against abortion, and the people she has spoken to say the atmosphere was similar after Carson delivered his speech last week.
"I think his other point, his main point, was that political correctness has just gone beyond bizarre," Hutchison said. "I just thought it was a great message."
Crowley turned to Rep. Jan Schakowsky (D-IL) and asked if she found "anything offensive" in Carson's speech.
"I think that there is a political correctness that he was trying to use to appeal to a conservative audience," Schakowsky said. "I think it's really not really an appropriate place to make this kind of political speech and to invoke God as his support for that kind of view."
Schakowsky concluded by saying that Carson's message displayed an "empathy gap" between where the American propel are and where Carson, and other conservatives, want the nation to go. "We need to have an economy that works for everyone," she concluded.
Watch the clip below via CNN:
> >Follow Noah Rothman (@NoahCRothman) on Twitter
Have a tip we should know? tips@mediaite.com