CNN Panel Blasts Anti-Zimmerman Juror: 'Disturbing' To Speak Out Against Her Own 'Not Guilty' Vote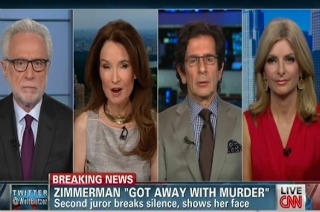 On Thursday, George Zimmerman juror B-29 came out publically and denounced the jury's decision to acquit the defendant of charges relating to the murder of Trayvon Martin. A panel of CNN guests tore into juror B-29 on Thursday over the move, noting that it was "disturbing" for her to speak out against her own vote in this case.

Identifying herself only as Maddy, the only minority member of the all-female jury in the Zimmerman case told ABC News anchor Robin Roberts that she regretted that the law did not allow them to convict Zimmerman on the charge of second degree murder. "In our hearts we felt he was guilty," she said.
RELATED: Zimmerman Juror Speaks Out, Tells ABC: He 'Got Away With Murder,' 'I Let Down' Trayvon's Parents
"George Zimmerman got away with murder, but you can't get away from God," she said. "And at the end of the day, he's going to have a lot of questions and answers he has to deal with, [but] the law couldn't prove it."
"It's so disturbing, I have to say, to hear a juror speak after the fact about her regrets; that perhaps she should have held out, that perhaps it was murder, when she had every opportunity in the jury room to voice how she felt, to stand her ground in the jury room if she wanted to do that," said legal analyst Lisa Bloom. "Ultimately, she chose not to."
"Trial are not moral tribunals in the United States," criminal defense attorney Mark Nejame observed. "You have to apply the facts – you have to apply the evidence to the law." He added that it makes him "nervous" when the public starts "second guessing" what jurors agree to in the jury room.
The panel compared the statements by Juror B-29 with those of B-37 who appeared sympathetic to Zimmerman in her interview with Anderson Cooper. All agreed that, given the races of those two jurors, it is clear that the difference of opinions between the two jurors can be linked to their racial backgrounds.
Watch the clip below via CNN:
> >Follow Noah Rothman (@NoahCRothman) on Twitter
Have a tip we should know? tips@mediaite.com