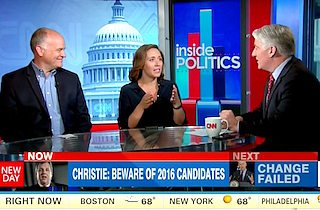 New Jersey Governor Chris Christie gave a sharp answer to John Harwood's question yesterday on CNBC as to whether he was running for president:
"The fact is, you should beware of people, in my opinion, who are overanxious to make that decision before they need to. That would indicate to me ambition before wisdom. And I don't think that's what you want from the person sitting in the Oval Office."
Good stuff. One problem, as CNN's Inside Politics panel pointed out Thursday morning: nothing says "Hey everybody I'm running for president" like "embarking on a multi-city tour of Iowa," which Christie does today.
RELATED: Chris Christie's Opinion on SCOTUS' Hobby Lobby Ruling: 'Who Knows?'
"There is this sense among the public that they're a little wary of people who appear overly ambitious, who appear to be seeking power and maybe are not seeking the presidency for the right reasons," Associated Press' Julie Pace said, before adding: "Obviously, though he is going to Iowa. He is doing a lot of things this year that certainly make it look like he is thinking about the presidency. So you have to wonder if there are just words there, or part of how he really feels?"
National Journal's Ron Fournier was more characteristically blunt: "Christie, like Hillary Clinton, like Rand Paul, like a bunch of other folks, are running for president right now," Fournier said. "The only question is do they keep running a year from now?"
Watch the clip below, via CNN:
[Image via screengrab]
——
>> Follow Evan McMurry (@evanmcmurry) on Twitter
Have a tip we should know? tips@mediaite.com