CNN Panel Clashes Over Obama's Record On Transparency…And Whether It Even Matters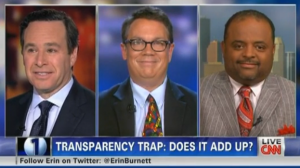 Transparency is an oft-cited example of ideas that would make politics a better place. And President Barack Obama has made sure to reinforce that concept, touting what he promotes as his administration's historic, crystal clear record — juxtaposed with Mitt Romney's offshore bank accounts. A CNN segment Tuesday night took a look at whether Obama's statements about transparency add up.
The beginning of the OutFront segment noted that Obama promised to disclose the White House visitors' log…but then the administration later came under fire because officials held meetings with lobbyists across the street — "at a townhouse with no visitor records" — instead. He further promised more protection for government whistleblowers. While he's done that, the report noted that the administration as also prosecuted a record number of them.
Bottom line? Both candidates "need help" when it comes to transparency. PolitiFact's Bill Adair set the president set "a high record for himself," which was met with "mixed success." On a somewhat different note, David Frum asserted that "transparency is the most overrated concept in government. It doesn't do what you want it to do. It's usually not desirable. It breeds cynicism. And of course it's counterproductive."
But do tell us how you really feel, David. Unsurprisingly, his claim was challenged, but Frum asserted that us voters think we want to know everything…but we don't really want to know the dirt. Meanwhile Roland Martin simply had three words for the whole issue: "Waste of time."
Frum proceeded to drive home his point. We do know more about what goes on behind closed doors now than ever before, he argued. But we're getting nothing done. Back in the Good Old Days, when we didn't know so much, government was more productive.
That's one way to argue it.
Take a look, via CNN:

Have a tip we should know? tips@mediaite.com