CNN Panel Compares Mitt Romney To Carrot Top, Says He Needs A 'Swag Transplant'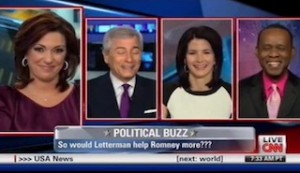 I really don't understand why timer/buzzer panel shows and segments work. I mean, what kind of incisive commentary can anyone give when there's literally a loud clock ticking throughout your time on air? And, while that approach makes sense on, say, ESPN, there's just no reason why it should work on CNN. But, for some reason, it kind of does. How else would we get a ridiculously goofy couple minutes of television where a Georgetown professor explains that Mitt Romney needs a "swag transplant."
The segment is called "Political Buzz" and the professor is Dr. Chris Metzler, responding to a question about how Romney can change his image for the public.
"Here's the problem. Barring a swag transplant, I don't think that there's anyone who can help Romney. I do think, perhaps, if he invoked his inner Snoop Dogg, that there may be an opportunity for him to be helped. Look, the problem is that he's not connecting with anyone. He seems like the accidental candidate."
Interesting but Romney's already had enough problems with regular dogs, he doesn't need to start messing with doggs.
RELATED: Bill Maher: Romney Can't Run To Santorum's Right, Only People There Are 'Kirk Cameron And The Neo-Nazi Party'
That wasn't the only bizarre moment in this short segment. Democratic strategist Robert Zimmerman started the topic off by comparing Romney to Carrot Top, a comment which was referred to as "pretty hip."
Really? On what planet is a Carrot Top reference "hip" in the year 2012? I guess the same planet where I enjoyed this silliness as much as I did. Weird.
Watch the clip from CNN below:
Have a tip we should know? tips@mediaite.com