CNN Panel Erupts Over Accusation Obama Supports Susan Rice Because She Backed Him Over Clinton In '08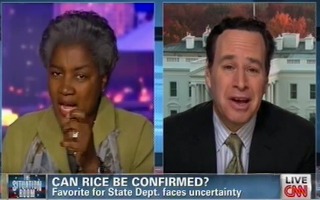 On Monday, a debate over United Nations Ambassador Susan Rice's fitness to replace Sec. Hillary Clinton as the Secretary of State between CNN contributors Donna Brazile and David Frum descended into a heated argument. Frum contended that President Barack Obama supports Rice primarily because she was loyal to him during the 2008 primaries against Clinton – an assertion which Brazile did not appreciate.

CNN anchor Wolf Blitzer asked Frum why he thought that Rice would have simply repeated talking points crafted for her regarding the origins of the deadly attack on an American consulate in Benghazi when she could have relied on her own background knowledge and expertise.
Frum said that the Obama administration crafted intentionally inaccurate talking points regarding the attack in Benghazi to escape a political problem, and this is why Rice is encountering so much resistance to her potential nomination to replace Sec. Clinton.
"They were very eager to pin the blame on something else, something that would deflect blame away from them, which is why they put so much emphasis on the video," said Frum. "That was Washington covering its behind."
Frum turned to Brazile, saying that the only reason that Obama favors Rice so much is that she supported him during the 2008 Democratic primaries against Clinton. Brazile took exception to that suggestion and listed Rice's various qualifications to hold high office. "That's true of dozens of people," Frum shot back.
Crosstalk ensued as Brazile defended Rice's record at the United Nations and in the White House as a reason why she should be nominated and confirmed as the next Secretary of State. Frum, without backing off his contention that Rice occupies her position at the U.N. due entirely to her loyalty to the president, said that he supports Obama having the cabinet members he wants.
Watch the clip below via CNN:
> >Follow Noah Rothman (@Noah_C_Rothman) on Twitter
Have a tip we should know? tips@mediaite.com