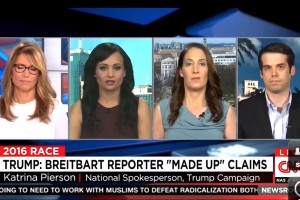 A CNN panel interview Friday morning exploded into a roundtable of accusation and condemnation regarding the persistence of violence at Trump rallies, and the campaign's failure to condemn, admit, or even address it.
Breitbart reporter Michelle Fields alleged that Trump campaign manager Corey Lewandowski grabbed her and nearly threw her to the ground at a post-rally presser Tuesday night. Lewandowski denied the charge and attempted to smear Fields as dishonest. Trump told reporters she "made it up." After Politico released audio of the incident, campaign spokesperson Katrina Pierson denied that it was Lewandowski who grabbed Fields, suggesting it might have been another reporter. Lewandowski later tweeted at Fields directly, telling her she was "delusional."
It was amid this environment that Fields' boyfriend and Daily Caller senior editor Jamie Weinstein clashed with Pierson, saying that the Trump camp's behavior reflected a "larger pattern of deception from the Trump campaign,"
"I think Katrina Pierson knows the truth of this and for her to stand by and allow these tacks to go on is shameful — totally, utterly shameful." Weinstein added that her denials were "disgusting," and that she should be "ashamed."
Watch the full interview below.
Fields' alleged assault comes after several reports of violence at Trump rallies — mainly perpetrated by the mogul's supporters upon protesters, but also a Time magazine photojournalist who was slammed to the ground by Secret Service. On Tuesday, a 78-year-old socked a protester unprovoked, and told a reporter that "next time we may have to kill him." Through it all, the Trump camp has downplayed the violence; his supporters have taken to victim-blaming; Trump himself has been accused of encouraging it, offering to pay the legal fees of any fan who assaults a protester, and frequently exclaiming how "fun" his rallies are.
Have a tip we should know? tips@mediaite.com