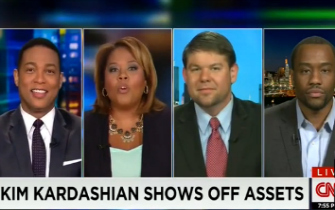 As you likely know by now, Kim Kardashian large butt "broke the Internet" on Wednesday spawning all kinds of parodies, hand-wringing, think-pieces, and accusations of racism/sexism.
And so, naturally, CNN did a panel debate on it, chyron'd: "Kim Kardashian Shows Off Assets: Too Much Or Too Hot?"
Forget the fact that "too hot" is not necessarily the opposite of "too much" — and so the presented question is unclear — how did the actual conversation go? Exactly as you might expect.
Tara Setmayer lamented the Paper cover image, but reminded her co-panelists that "this is capitalism" and if the Kardashians want to garner attention, they will use the only asset they have to offer: Provocation. "I think it's tacky and classless, but it's her prerogative to do it," she added.
Radio host Ben Ferguson agreed, declaring that all aspects of the photograph were "too much," prompting Marc Lamont Hill to chime in:
This is an area of expertise, you know what I mean? So a couple things: First of all, Black folk have been celebrating big asses forever. The problem is that, at some point, white people became obsessed with it, they're getting butt shots and all this stuff. […] Second, to Ben's point that there's 'too much butt,' there's no such thing as too much butt. And I think we have to be very careful about policing black and brown bodies in such a way that Eurocentric standards of what is too much.
That comment led to a lot of shouting, crosstalk, and Ferguson insisting that when he saw Kardashian's butt, "race never came into to my mind." The segment eventually ended with the radio host gesturing that porn stars are above Kardashian, while host Don Lemon sang "Too Much Booty in the Pants."
Watch below, via CNN:
— —
>> Follow Andrew Kirell (@AndrewKirell) on Twitter
Have a tip we should know? [email protected]