CNN Panel Guest On Network's Future: 'CNN Is This Nation's Last Bastion Of Television Journalism'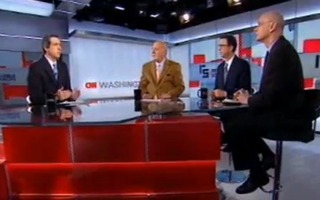 In a panel discussion on Sunday with CNN's media critic Howard Kurtz about the future of the cable news network after this week's announcement that Jeff Zucker will take over as the network's chief in January, one panel guest claimed that CNN is the nation's last, best hope for strong television journalism.

RELATED: Jeff Zucker Will Officially Take Over As President Of CNN Worldwide
Media critic Frank Sesno said that the future of the network is important to the broadcast news industry which, Sesno said, is critical to the political health of the nation.
Kurtz said that CNN's problem, as a hard news network, was that it does not attract loyal viewers when there is no breaking news in the way its cable news competitors can. He cited ratings that show CNN is lagging behind its competitors in raw viewership.
David Zurawik, media critic for the Baltimore Sun, said that ratings are not the only thing that drives revenue in the form of advertising dollars. He claimed that advertisers love buying CNN airtime because the network is so well respected.
"CNN is this nation's last bastion of television journalism," Zurawik said. "You can make money by cutting this channel down to what MSNBC and Fox are. Sure, they have ratings in prime time because they don't do anything except spend their money on those ratings."
Sesno concluded that CNN is a profitable entity and the network should focus on investments and not cuts to its budget.
Watch the clip below via CNN:
> >Follow Noah Rothman (@Noah_C_Rothman) on Twitter
Editor's note: This post has been edited since its original posting – Jon Nicosia
Have a tip we should know? tips@mediaite.com