CNN Panel Takes On Jim Carrey-Fox News Feud Like It Isn't A Giant Waste Of Time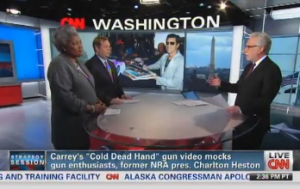 In the latest edition of Conservatives Picking Fights With Random Celebrities, actor Jim Carrey has fired back against Fox News for their angry, perhaps slightly over-obsessive coverage of a video Carrey did for the site Funny or Die making fun of the late actor and gun rights advocate Charlton Heston. And following Carrey's rebuttal, in which he referred to the cable network as a "giant culture fart," a CNN panel analyzed the feud, what this means for the larger gun debate, and who's going to be the first to throw a spear at someone.
RELATED: Greg Gutfeld Takes To Megyn Kelly's Show To Rail Against 'Self-Righteous Jerk' Jim Carrey's Anti-Gun Video
Wolf Blitzer asked if Carrey's angry reaction was an "appropriate" one, since Jim Carrey is nothing if not appropriate. Republican strategist Ron Bonjean thought Carrey's reaction was crazy, surmising the video only has so many views because of the political controversy. He said conservatives were outraged because Carrey was making fun of Southerners and law-abiding gun owners who aren't going out and committing gun crimes.
Donna Brazile praised Carrey's long-standing commitment to using his platform as an actor to fight for an assault weapons ban. She predicted that Senate Democrats might have the votes for universal background checks, but doubted that the assault weapons ban would actually go through. Bonjean suggested that Carrey should post another video targeting Senate Democrats for not pushing for stronger legislation, and if there's one thing that Funny or Die viewers love, it's comedy about procedural hurdles in the halls of government.
Let's just all briefly take a moment to think about how the big political debate this week has been over a Funny or Die video. Let the magnitude of that sink in. Comedians do things like this all the time, so… why are we wasting time on this non-troversy? Greg Gutfeld shouldn't be expending energy on this, though at least the back-and-forth gave Jim Carrey something better to do than promoting nonsense about vaccines. I'm just gonna watch Bruce Almighty and try to forget the whole thing.
Watch the video below, courtesy of CNN:
—–
Follow Josh Feldman on Twitter: @feldmaniac
Have a tip we should know? tips@mediaite.com
Josh Feldman - Senior Editor