CNN Panel Won't Forgive Paula Deen: Unlike Limbaugh, Her Audience Cares About Using Racial Slurs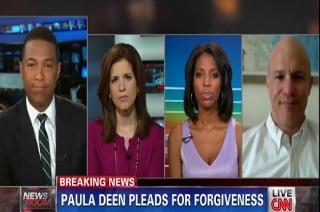 In the immediate wake of the release of an apology video in which celebrity chef Paula Deen begged forgiveness after admitting she had used racial slurs in the past, a CNN panel dug into the substance of that apology and dubbed it wanting. The panel guests said that Deen did not adequately acknowledge that what she did was wrong and her audience, as opposed to that of conservative radio host Rush Limbaugh, cares more deeply about the offense she committed.

Crisis management expert Eric Dezenhall said that crisis that include a racial component often result in the subject of that controversy losing their jobs and having to "go away for a while."
Dezenhall added that he was not sure that Deen should have apologized because it would be parsed by panels like the one he was participating in.
"The problem is an apology, regardless of how it's done, is just the price of entry," Dezenhall said. "In this culture, when we are doing what we are doing now and analyzing the apology, it's always considered to be substandard. So she's at the very beginning of this, not the end of it."
RELATED: Paula Deen Releases Video Statement Addressing Use Of N-Word, Plantation Costumes
He said that he did not hear any acknowledgement of why what Deen said was wrong, rendering the apology insufficient.
The Root columnist Kelly Goff equated Deen's admission to using slurs with those made by former Los Angeles Detective Mark Fuhrman during the investigation into O.J. Simpson.
"I think that there's a little bit of questions in terms of the authenticity of the apology, that the first reaction was to go to her people," Goff said. "How are we supposed to accept a genuine apology for being genuinely sorry if the person can't even articulate what they did and why what they did was wrong?"
Goff said that, if Limbaugh had mad these comments, his audience would not care and an apology would be sufficient. However, Deen's audience is more sensitive and for them an apology alone may not be enough.
Watch the clip below via CNN:
> >Follow Noah Rothman (@NoahCRothman) on Twitter
Have a tip we should know? tips@mediaite.com