CNN Panelists Clash Over Reid's Claim That Romney Hasn't Paid Taxes In Ten Years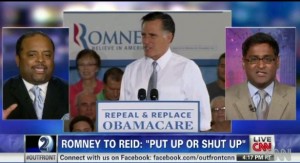 On CNN's OutFront tonight, Erin Burnett led a discussion on Mitt Romney's tax returns and the claim made by Senator Harry Reid this week that Romney has not paid any taxes in ten years. Roland Martin argued that Romney should respond to Reid's charge by releasing his tax returns, while National Review editor Ramesh Ponnuru dismissed Reid's wild allegations as "McCarthyite lies."
RELATED: Mitt Romney Responds To Harry Reid: Time To 'Put Up Or Shut Up'
Ponnuru said that he believes Romney should release more returns, but nonetheless dismissed the whole thing as a "trivial issue." Martin asked Ponnuru if it was trivial when Newt Gingrich raised the issue during the Republican nomination fight, which Ponnuru said it was. Martin pointed out that in the past few weeks, prominent conservatives have gone on the record saying Romney needs to release his returns.
Martin argued that "if the shoe was on the other foot," the Republicans would be lobbing the same political grenades at the other side. Ponnuru noticed that Martin did not offer any defense of Reid's comments, which he found to be unbecoming of someone in Reid's position, but Martin brought up the Donald Trump-Birthergate saga as a counterpoint to the heavy accusations being lobbed at Romney. Martin said that Reid's comments should not offend the Romney campaign because "this is big boy politics, and you've got to play it."
Ponnuru cast questions over the very idea that someone else high up at Bain Capital somehow knew all sorts of information about Romney's taxes. He said plainly that he thinks Reid is just making it up. Martin said that the only way such a thing can be proven is if Romney releases his tax returns, just as his father did.
Ponnuru found it remarkable that Romney would have to be the responsible one in this scenario, and asked Martin what kind of precedent it would set.
"Do you accept you can just make any charge and say to anyone in public life, 'Prove that I'm wrong.' Is that a standard you can live with yourself?"
Ponnuru rebutted Martin and Burnett offering up the birth certificate controversy, saying that both it and the calls to release the tax returns are ridiculous. Ponnuru said the whole thing was a "McCarthyite low blow."
Watch the video below, courtesy of CNN:
—–
Follow Josh Feldman on Twitter: @feldmaniac
Have a tip we should know? tips@mediaite.com
Josh Feldman - Senior Editor