CNN Panelists Compete to Write Christie's Political Obituary: 'You Guys Are Dire'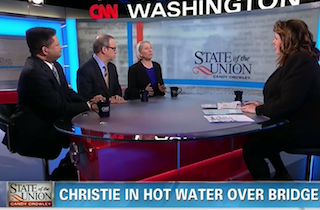 The panelists on CNN's State of the Union Sunday morning competed to give the most dire projection for New Jersey Governor Chris Christie's political demise following this weekend's new round of accusations over lane closures on the George Washington Bridge last September, each in their way arguing that Christie's political viability has eroded even if he isn't eventually implicated in the Bridgegate scandal.

"What's going on with David Wildstein underscores the big danger here," CNN analyst Ron Brownstein said, referring to a Christie-appointed Port Authority official who said through his lawyer over the weekend that Christie knew of the lane closures as they were happening. "There are multiple investigations underway at both the legislative and criminal level and there is going to be a drip, drip, drip. To the the sense those drips erode the original story he put out so forcefully in that press conference, obviously it's extremely dangerous."
"This will drag on legally for a long time," former congressman Artur Davis said. "Chris Christie strength four or five months ago was that he seemed to be, by far, the one Republican who would put Democrats on the defensive, even Hillary Clinton. Today, Chris Christie is a guy who's embattled. Given the fact that he's never going to be the favorite of the tea party wing of the Republican Party, the electability mantra, the electability rationale is being destroyed, and I'm not sure he has the political wherewithal to withstand his strongest rationale disappearing."
"Wow, you guys are dire," host Candy Crowley said.
"I'm going to be equally dire," said Anita Dunn. "His entire image coming out of Sandy, coming out of the management of his first term, was of someone who gets things done, rolls up his sleeves, really is a leader, transcends party lines to some extent in a Democratic state. So…even if he did know anything before, for four days his constituents were stuck in traffic. It was a big news story up there. And he didn't ask? He didn't do what the Port Authority ultimately did, which is pick up the phone and say, 'Move those barricades out, get those people moving?' And then, after it was over, he didn't ask how it happened? So the rationale of his claim to being a governing kind of guy has been totally undercut by this."
Watch the clip below, via CNN:
[Image via screengrab]
——
>> Follow Evan McMurry (@evanmcmurry) on Twitter
Have a tip we should know? tips@mediaite.com