CNN Panelists Enter Into Yelling Match Over Repealing ObamaCare: 'This Is A Piece Of Theater'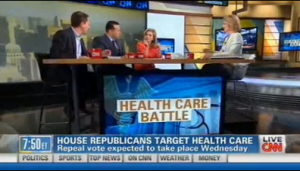 Starting Point's substitute host Christine Romans acted as referee Monday morning during a CNN panel discussion on health care.
"In just two days," she said, kicking off the segment, "House Republicans plan to call a vote to repeal the President's health care overhaul law. But it's mostly symbolic, because any repeal effort would likely die in the Democratic-controlled Senate. And of course the Supreme Court has ruled on this. It is the law of the land, health care reform, yet Republicans want to fight it to the bitter end."
"And I'm wondering," she said, turning things over to the panel, "should Congress people be spending more time helping constituents comply with the law rather than continuing all of this uncertainty?"
RELATED: Romney Campaign Says No Ceasefire On Obamacare, Remains A 'Central Issue In The Campaign'
Rep. Marsha Blackburn (R-TN) and NewYorker.com contributor Richard Socarides didn't exactly see eye-to-eye on the expected vote, with Socarides accusing Blackburn and her GOP colleagues of merely playing political games
"This is like a piece of theater, all right," said Socarides. "This is not going to get through the Senate."
"Let me tell you, this is not a piece of theater," she responded.
"You're just doing it to make a point," he continued.
"No. it is not a piece of theater because what the American people want to hear Congress say is that ObamaCare was a mistake," she countered.
"So you're making a statement… Political theater in an election year," Socarides insisted. "You are making a point. That's my only point. you are making a point. You'll agree you're making a point. You're not doing this to repeal it."
"I'm doing it to repeal it and get rid of it," Blackburn insisted. "It is the worst thing…"
Have a look at the segment, via CNN:
Have a tip we should know? tips@mediaite.com