CNN Plane Coverage Crushes MSNBC, But Christie Report May Provide 30 Rock Reprieve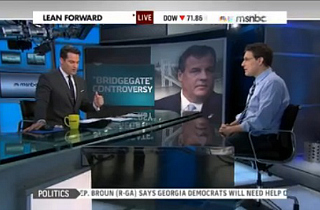 March has been a descent into madness for MSNBC, and not because of the NCAA Tournament.
The year started out nicely enough. Ratings from February showed the network beating CNN for the second straight month. With the midterms on the horizon and MSNBC's foundation partially built around election speculation, things were looking up for the Lean Forward network after seeing CNN edge past it for second in the cable news race in 2013.
But then Malaysian Air Flight 370 went missing early in the morning on March 8, which is exactly the wrong kind of story for a network that bills itself as the place for politics. Here is an international story with no Republicans to blame for its disappearance. CNN jumped in and hasn't taken its foot off the pedal since, leveraging its breaking news resources overseas and going all-in for 20 straight days and nights. The result—despite the criticism from some circles—has been a triple-digit ratings increase that has crushed MSNBC in the process. As recently as yesterday (Wednesday), almost three weeks after the 777 went missing, CNN is still beating MSNBC almost 2-to-1 in the demo. The mystery around what happened with the plane, how it happened and why it happened still remains, keeping audiences compelled for the foreseeable future.
Note: MSNBC had upped its coverage of MH370 after it was apparent the story was top of mind for most Americans in terms of news they care about, but it proved to be too late. Ironically, the scenario played out in the same fashion the Chris Christie bridge scandal played out in MSNBC's favor in January. If you recall, when Bridgegate broke on January 8, MSNBC and CNN went after the story hard (with Fox giving it relatively modest coverage). But a few days in, it was clear from the numbers that Christie was MSNBC's baby, so CNN basically punted, ratcheting down its coverage and focusing on items like the Loud Music Trial instead.
So MSNBC got its ratings bonanza from Christie in January, even challenging or beating Fox in the demo on select occasions in the process. CNN suffered most with little breaking news to counter the tide…at least until the Ukraine crisis hit (similar to the missing 777, Ukraine/Crimea is an international story CNN could hitch its resources and reputation to). From there, the 777 story shingled with Ukraine, putting CNN on higher ground for the past month. Meanwhile, back at MSNBC, the news around dwindling viewers and revenues can't be comforting.
But with the release of an internal report from the New Jersey Governor's office clearing Governor Christie of any wrongdoing, MSNBC is given a chance to get back on the radar, gain some momentum back. Steve Kornacki, a former local New Jersey political reporter who has become 30 Rock's go-to guy on everything-Christie, has already dismissed said internal report as nothing more as "Christie's defense from Christie's lawyers" whose findings should be seen as nothing more than a PR stunt.
So when flipping around the dial tonight and stopping by MSNBC, here's a preview of what you'll see from Matthews to Hayes to Maddow to O'Donnell: (1) The Christie report is a joke; (2) Here's what's wrong with it (cue 1-2 guests agreeing and a heavy dose of Kornacki ticking off all the unanswered questions that remain about the scandal) and (3) Why this scandal isn't anywhere near being resolved (it's not with the U.S. Attorney's office investigation and State Legislature's probe still pending). And with all of it, the network might receive a decent bump in a ratings report that has gone the wrong way for the network since the words, "Joining us now is aviation expert…" were heard for the first time about three weeks ago.
Cable news has never been as polarized as it is now.
It also has become a matter of finding a niche within a niche.
Welcome to the state of cable news, where the networks are seizing on certain stories that match their strengths to go all-in on.
In MSNBC's case, the specialties are election speculation and Republican scandals.
With the Chris Christie back in the news today thanks to a favorable report for the Governor—the network gets its much-needed goldmine back…
For a few days, anyway…
— —
>> Follow Joe Concha on Twitter (@ConchaMedia)
Have a tip we should know? tips@mediaite.com