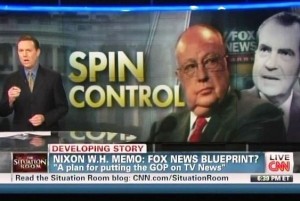 Perhaps owing to a classic summer news lull (combined with Casey Anthony Trial fatigue) CNN looked to Gawker for news today. The Situation Room, which is typically dedicated to hard news coming from inside the beltway, decided to devote a segment to yesterday's story on Fox Chief Roger Ailes and some memos unearthed by Gawker's John Cook. CNN producers sought a statement from Fox News, who insisted that a statement would be forthcoming if they ran it unedited. CNN refused to air it "sight unseen," Mediaite has obtained the full statement that CNN did not run.
The content in the Ailes memos range from the mundane to the prescient, and was presented by Gawker as breathless evidence to support the notion that Fox News is not only a political operation, but was actually conceived by Ailes in the late 60's while serving in the Nixon White House. Given the tenor of the original post, it would not seem unreasonable for Fox News to insist that they have their say.
In preparation for the segment, CNN's Brian Todd contacted Fox News earlier today for a response to the item. Mediaite has learned that Fox News offered to provided the statement, and simply asked for their two-line response to be used in full — a pretty standard request when it comes to dealing with the media, since anything can be edited. CNN refused to use the statement in its entirety, stating that it is against their policy.
Brought to you now, by Mediaite, the 42 words from a Fox News spokesperson that CNN refused to air:
"We are not going to respond to memos that were allegedly written more than forty years ago. However, if Mr. Ailes did have the idea for Fox News nearly half a century ago, he would have beaten CNN and MSNBC even sooner."
Given that CNN was reporting on a report that seemed to go out of its way to make the Fox News chief look bad, it doesn't seem terribly unfair for Fox News to ask for the full statement to run. One might think that CNN could have easily just run the statement and had a little self-deprecating fun with it on a slow summer Friday. Instead, by choosing not to run the entire statement, they come off looking, to some, as pedantic. Could this be the start of a new chapter in the cable news wars? Stay tuned.
Update: CNN tells Mediaite ""CNN simply doesn't make deals with individuals or organizations about how much of a statement the network will air, especially sight unseen. And we can't imagine that Fox News would do that either. But then again, maybe they would…"
Watch the clip below, courtesy of CNN:
Have a tip we should know? tips@mediaite.com