CNN Report Fails To Convince Wolf Blitzer That Newt Gingrich's First Divorce Matters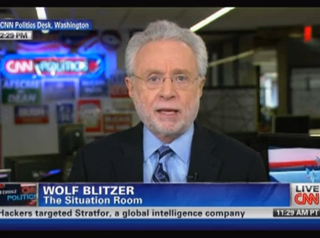 As Newt Gingrich continues to gaffe his way to the top (and, subsequently, the bottom) of the 2012 Republican pile, new questions have risen about his first divorce, and who exactly pulled the trigger. After an extensive CNN segment on the ins and outs of the divorce papers, however, Wolf Blitzer appeared, well, unconvinced that any of it mattered, to say the least.
RELATED: Wolf Blitzer Exclaims 'Homeless Shelters, Get Ready!' Following Report On Paltry Worker Savings
The interview preceding Blitzer's comments was of Alan Duke, who had been reporting on the divorce for thirty years, and found it bizarre that the Gingrich campaign had claimed that it was his ex-wife who requested the divorce. "The file clearly states that she did not want the judge to grant the divorce," he argued, judging from the files he uncovered at the courthouse. He quoted the file as stating that the "defendant does not admit marriage is irretrievably broken," and that she had called the divorce a "complete surprise."
Blitzer then responded to interviewer Isha Sesay, first about Gingrich's chances in the Iowa caucuses. He clarified that Iowa's delegates are not distributed on a winner-take-all basis, and that there are still several big-name endorsements up for grabs there, such as Rep. Steve King and Sen. Chuck Grassley. As for whether the divorce story will matter? "It might matter to some social conservatives," Blitzer noted, but "I suspect so much of this is well-know… I'm not sure it's going to have a huge effect on the Iowa caucuses." So much for that interview with Alan Duke, apparently?
RELATED: Kermit the Frog To Wolf Blitzer: 'I Have To Tell You, Newt Is From The Swamp'
The segment via CNN below:

Have a tip we should know? tips@mediaite.com