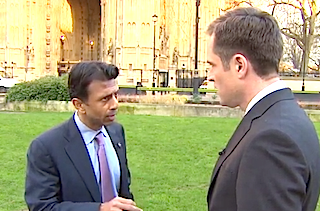 Following a speech he gave in London Monday that referenced the discredited claims of "no-go zones" for non-Muslims in Britain, Gov. Bobby Jindal (R-LA) continued to defend his point to a CNN reporter who pressed him for evidence.
In his remarks, Jindal said, "It is startling to think that any country would allow, even unofficially, for a so called 'no-go zone.' The idea that a free country would allow for specific areas of its country to operate in an autonomous way that is not free and is in direct opposition to its laws is hard to fathom."
But later, he was confronted by CNN's Max Foster to back up these claims. "Look, I've heard from folks here that there are neighborhoods where women don't feel comfortable going in without veils," Jindal said. "That's wrong. We all know that there are neighborhoods where police are less likely to go into."
"But you need to have proper, sort of, facts to back that up," Foster replied, saying he, as British man, has never heard of "no-go zones" for non-Muslims.
Jindal said that's why he added the word "so-called" before "no-go zones" in his speech before turning the accusations around on liberals. "I think that the radical Left absolutely wants to pretend like this problem is not here. Pretending it's not here won't make it go away," he said.
As Foster continued to press him for evidence and accused him of "exaggerating" the situation, Jindal replied, "I think your viewers know absolutely there are places where the police are less likely to go. They absolutely know there are neighborhoods where they wouldn't feel comfortable."
"I know the left wants to make this into an attack on religion and that's not what this is," he said again. "What we are saying it's absolutely an issue for the UK, absolutely is an issue for America and other European and Western nations."
Jindal's comments come after Fox News was forced to air a series of on-air apologies after "so-called" terrorism "experts" made similar statements without evidence following the terror attacks against Charlie Hebdo in Paris.
Watch video below, via CNN:
[Photo via screengrab]
— —
>> Follow Matt Wilstein (@TheMattWilstein) on Twitter
Have a tip we should know? [email protected]