CNN Reporter Confronts Woman Running Military Dog Charity Scam: 'CNN Feels Like We Were Lied To'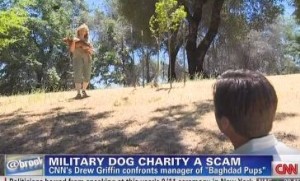 For the past few years, the charity SPCA International has been running a program called Operation Baghdad Pups. The goal of the program is to take dogs who join soldiers in combat zones and work on getting them to good homes in the United States. Last year, CNN's sister network HLN featured the program to bring more attention to it, but last month it was discovered that of the $27 million raised for the program, "nearly all of that money" was spent on fundraising expenses. CNN reporter Drew Griffin confronted a spokeswoman for SPCA International today about the scam, telling her directly that "CNN feels like we were lied to."
RELATED: Business Selling Tucson Memorial 'Together We Thrive' Shirts For Charity Gets Hate Mail
Griffin explained that last year, HLN anchor Robin Meade hosted Terri Crisp from the organization on her show and raved about the program for her audience. Crisp explained that the two dogs she brought into the studio, Ivy and Nugget, were stranded, but Griffin explained that they were, in fact, donated and taken from adoptive homes after SPCA International asked for them. Griffin said for weeks CNN has been trying to find Crisp, but haven't been able to until this week.
Griffin found Crisp at her home and tried to confront her about the operation. Crisp first told him "this is not the place to do an interview," to which Griffin said that he's been trying to set up a proper interview with her for weeks. He asked her why she "lied" on HLN about where the dogs came from. Crisp repeatedly referred Griffin to her director of communications, but Griffin pressed on and called Crisp out for using CNN to promote what looks like a scam.
"You've been on our air, ma'am. You've told our viewers that Ivy and Nugget were abandoned military contract dogs, which we've confirmed they were not, basically lying to our viewers. And I know you got an outpouring of support and, most likely, money after that appearance. I mean, our viewers feel like they, and so do we, CNN feels like we were lied to. Do you have any explanation for how that happened?"
Crisp continued to dodge the questions and insisted Griffin schedule a proper interview. Griffin explained to viewers that over 85 percent of the money collected for the operation went to direct-mail provider Quadriga Art.
Watch the confrontation below, courtesy of CNN:
—–
Follow Josh Feldman on Twitter: @feldmaniac
Have a tip we should know? tips@mediaite.com
Josh Feldman - Senior Editor