CNN Reporter Denies Ever Reporting on ISIS Dildo Flag as Network Never Offers Correction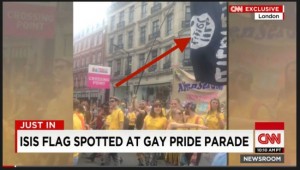 The roll-your-eyes-and-sigh media story gold medalist of the week has already been awarded in the form of the ISIS flag that wasn't. If you missed it, here's the short version: A flag that kinda resembled the flag of ISIS was spotted by a CNN reporter at a London Gay Pride parade on Saturday and she (Lucy Pawle) reported it on the air.
The discovery was then discussed and analyzed for an entire segment, even bringing in CNN national security analyst to break down the development. It was revealed shortly thereafter that the flag wasn't that of the terror group, but one featuring sex toys in place of Arabic language.
OK — it was a mistake. It happens. The colors (black and white) did match that of ISIS. And it's clearly a mocking parody of the jihadist flag. But before going to air with that, Pawle probably should have tried to get a closer look while contrasting it with a Google Images search on her phone with the actual ISIS flag to see if it was a match. She could've also just asked the person holding the flag. Trust but verify. 101 stuff when broadcasting worldwide…
But here's where CNN is really screwing the pooch on two levels:
1) By taking it off its website as if it never happened.
2) By never offering a correction, nor refusing to when asked.
And while CNN believes taking the video of the segment off CNN.com will make it go away, it only draws more attention to the YouTube version of it… which has now drawn a whopping three millions views-plus and counting. Of course, we've seen this movie about three million times before: Attempt to scrub something embarrassing that's already gone public (on-air, social media, whatever) in hopes no one recorded it off of television (because that never happens, particularly with media sites like Mediaite around, which broke this story) or took a screen shot (See: Weiner, Anthony) of a Tweet gone bad before it gets deleted by the owner in a panic.
As for the correction, that's one of the reasons CNN has a media reporter to police this stuff after the fact (Brian Stelter), who instead is too busy playing damage control on cut-and-paste-challenges as it pertains to derogatory direct messages about a 27-year veteran of the network. It's also the reason why the reporter (Pawle of CNN International) has a Twitter account: Make a mistake, at minimum own up to it in some kind of forum if airtime isn't readily available. But Ms. Pawle somehow decides that doubling down is the better option here…you know…despite clear audio of her report at the time completely contradicting her.
@Paddy0pedobom I reported no such thing

— Lucy Pawle (@lucypawle) June 27, 2015
The Washington Post's Erik Wemple asked CNN if it would be addressing the issue. The network responded with a stiff, "No." Not a word out of CNNi's Managing Director Tony Maddox , either.
That only gives the story more legs instead of putting out the fire, but to each to their own.
It's roll-your-eyes-and-sigh time again for a major media outlet.
Make a mistake, offer a correction. And don't try to pretend it never happened by hitting the delete button in the video section of CNN.com.
But the network does the exact opposite instead.
This is CNN.
Watch the segment again, below via CNN:
— —
>> Follow Joe Concha on Twitter @JoeConchaTV
Have a tip we should know? tips@mediaite.com