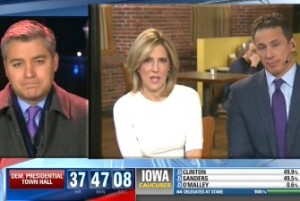 If you need evidence of the panic that has been building among the mainstream media types who have been feeding the insatiable beast that is the Donald Trump presidential campaign, look no further than CNN. Faced with the first real opportunity to change the narrative and blunt Trump's titanic momentum, they've leapt on it with both feet and whatever other appendages they can free up.
I'm speaking, of course, about Trump's defeat in Monday night's Iowa caucuses, a result which, while not predicted by polls, was also not completely out of left field. For weeks, pundits have talked about how factors like the ground game, the caucus process itself, and overall turnout could prove costly to Trump. But the guy still holds a huge 16 point national lead, and an even bigger lead in New Hampshire, next up on the Republican docket.
Here's how CNN National Correspondent Jim Acosta summed up Trump's situation on Tuesday morning:
How good of a night was it for Marco Rubio? Both he and Donald Trump are tied in delegates. Donald Trump is not the frontrunner anymore, guys.
Now, granted, it was a good night for Marco Rubio, a very good one. Hell, by next week, Acosta could be right, but as of right now, Donald Trump is still the frontrunner. Even his loss in Iowa only puts him one delegate behind, but delegate count is not how reporters define a frontrunner, or CNN would be reporting that Hillary Clinton is kicking Bernie Sanders' ass.
This is the new narrative is being spun up, but it remains to be seen how effective it is. Republican voters, particularly Trump voters, are remarkably resistant to media narratives. On the other hand, the rise of Rubio could provide the impetus for supporters of the other "establishment" candidates to consolidate behind him and make a race of it in New Hampshire. Just as likely, though, is that Rubio and Cruz have lit themselves for bombardment by the likes of Chris Christie, John Kasich, and Jeb Bush. Trump has a 26-point lead in the latest New Hampshire poll. I could see a Ted Cruz flack saying Trump is no longer the frontrunner, but not anyone else.
This is an opinion piece. The views expressed in this article are those of just the author.