CNN Reporter: Obama's 'Aggressive,' 'Partisan' Speech Signals He Thinks Sequester Will Go Through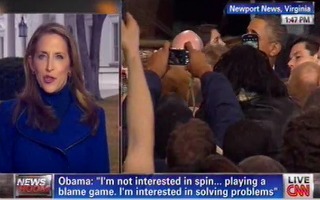 Following the immediate conclusion of an address by President Barack Obama to a group of shipbuilders in Virginia, CNN reporter Jessica Yellin said that the president was establishing the terms of the debate for when the sequester takes effect. She said that Obama's "aggressive" and "partisan" appeal was not designed to bring Republicans to the negotiating table, but rather to create favorable narrative for the post-sequester political fight.

RELATED: 'We're Doomed!' Jon Stewart Dons Hazmat Suit To Mock Sequester Panic
CNN reporter John King told anchor Suzanne Malveaux that the president was proposing terms that Republicans in Congress could not accept. After having raised taxes once this year, the GOP in Congress is unlikely to do so again.
Malveaux turned to Yellin and asked what she made of the president's insistence that he was only interested in avoiding the sequester, not establishing who is to blame for it.
"It's part of the message strategy, isn't it?" Yellin said. "He said he is, basically, above the political fight, but he is waging a political fight."
Yellin said that Obama's speech betrayed the belief in the White House that the sequester will take effect on Friday.
"This is not the kind of speech the president would deliver if he thought this – a deal was going to get hammered out this week," Yellin continued. "It was so clearly partisan, it was such an aggressive attack – blaming Republicans for the stalemate — and clearly setting up the blame if those cuts are triggered on Friday."
"That is not the kind of environment you create if you think you're on the verge of a deal," Yellin concluded.
Watch the clip below via CNN:
> >Follow Noah Rothman (@NoahCRothman) on Twitter
Have a tip we should know? [email protected]