CNN Reporter Removed over 'Scum' Tweet Asks Whether U.S.'s MH17 Evidence Is 'Credible'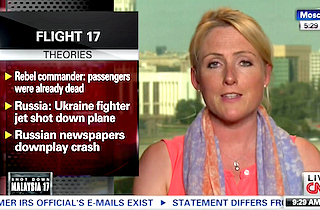 Diana Magnay, a CNN foreign correspondent who was just removed from Israel-Palestine coverage and sent to Moscow following a tweet in which she called Israelis cheering the Gaza ground invasion "scum," wondered to CNN's Carol Costello Tuesday morning how credible the U.S.'s evidence against Russian separatists in the downing of flight MH17 was.
"Russia is really saying, look, your evidence, U.S. and Kiev, is not definitive," Magnay said, elaborating on Russia's pair of theories that blame Kiev. "They say that those audio intercepts that the U.S. has been pointing to were doctored and could have been put together very easily, and saying this is our version of events. So really it's the propaganda machine spinning on both sides in what is an information war — certainly as it's seen from the Russian angle."
RELATED: Australia's Prime Minister Is Pretty Damn Pissed at Vladimir Putin
"Is Russia's evidence credible?" Costello asked skeptically.
"Well, how credible is the U.S. evidence?" Magnay replied. "The evidence the U.S. has put out there — these tapings where we hear the pro-Russian separatists having a conversation with someone who is supposedly a Russian military official of some sort — it's difficult to prove that that is real." (The tapes were actually released by Ukraine.)
"Or that video showing a missile launch going towards Russia the day after the incident," she continued. "How do we know that is definitively real? So, you know, from the Russian perspective, all the evidence right now is fairly flimsy."
On Sunday, Secretary of State John Kerry presented the U.S.'s case that pro-Russian Ukrainian separatists had fired on the plane.
Watch the video below, via CNN:
[Image via screengrab]
——
>> Follow Evan McMurry (@evanmcmurry) on Twitter
Have a tip we should know? tips@mediaite.com