CNN Reporter Smacked Down For Comparing Passenger's Experience To Katrina: 'We're On A Freaking Cruise Ship'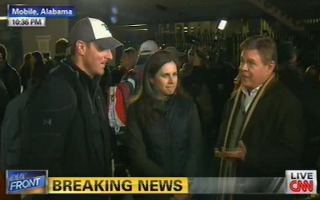 Some media critics have accused CNN of devoting outsize coverage to a disabled cruise ship which was towed into port yesterday. On Thursday night, while interviewing passengers as they disembarked the sewage-laden ship, one CNN anchor addressed the criticisms and defended the network's coverage. Another CNN reporter then immediately asked a passenger if he thought his experience on board the ship was akin to the experience of New Orleans residents in the wake of Hurricane Katrina. The passenger dismissed the reporter's premise saying that there was no comparison.

RELATED: CNN's Schizophrenia: Dayside Get Wacky While Prime Time Just Gets. . . Better
"Some people on Twitter and people out there are saying, 'look, why are you guys all talking about this? It was just a few days, it wasn't life threatening. And, look, you can understand a little bit about what they're saying," said CNN anchor Erin Burnett. She went on to defend CNN's coverage saying that anytime there is a fire onboard a ship, it creates a sense of terror among passengers and cruise-goers everywhere.
Burnett brought in CNN reporter Martin Savidge who interviewed one of ship's passengers.
"The isolation factor you described, this is the same sort of thing that many people who went through Katrina in New Orleans – those that were left behind – they never heard anything either," Savidge noted.
"I imagine that's something very similar," he added after noting passengers' lack of ability to communicate with the mainland.
"Yeah, but let's put that in perspective," the measured passenger replied. "Katrina was a major devastation. We're in a freaking cruise ship."
Watch the clip below via CNN:
h/t Hot Air
> >Follow Noah Rothman (@NoahCRothman) on Twitter
Have a tip we should know? [email protected]