CNN Reports: Marijuana a 'Bigger Problem' Than Alcohol, Weapons for Colorado Teens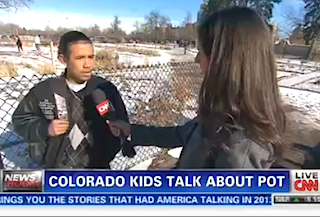 With just hours to go before recreational marijuana use becomes legal in the state of Colorado, CNN sent reporter Ana Cabrera to Denver where she uncovered a shocking development: high school students smoke weed — a lot of it. The law states that only people over 21 will be able to purchase and use marijuana legally, but even before the legislation has take effect, teenagers are already "finding ways to get their hands on" the drug.
According to one high school senior, "9 out of 10" of his classmates have smoked marijuana in the past. Another said, "Most of my friends use it" because "it's not typically classified as, like, a harmful drug, like as meth or whatever." A third added, "There's a bunch of people who come to this school high."
Cabrera reported that marijuana is now the number one thing getting Colorado teens kicked out school, which she said made it "a bigger problem than alcohol, disobedience or weapons violations." She spoke with one 18-year-old "recovering addict" who has been in and out of jail 10 times in the past four years for marijuana-related offenses including possession of "paraphernalia."
"That's where all my problems started with weed, I guess," Chris Collins told Cabrera, adding that all he got from the drug was "bad grades and trouble."
While there has been serious research, cited by CNN, showing that marijuana is more harmful to the adolescent brain than it is to adults, it's also possible that this specific teen's ten stints in jail may have harmed his prospects as much, if not more than, his drug use.
CNN's report neglected to offer any voices on the pro-marijuana side of the issue, if you don't count the random high school students who may have been stoned themselves. By objectively calling marijuana use a "bigger problem" than alcohol and weapons without taking into account consequences beyond disciplinary action, CNN is simply fueling national skepticism about Colorado's groundbreaking new law. In a state that has seen far more than its share of mass shootings, that assertion comes off as particularly irresponsible.
But at least now we know that teenagers in Colorado smoke pot. Thanks, CNN!
Watch video below, via CNN:
[photo via screengrab]
— —
>> Follow Matt Wilstein (@TheMattWilstein) on Twitter
Have a tip we should know? tips@mediaite.com