CNN Royal Commentator Calls Kate Middleton 'Brilliant' For Giving Birth To Son On First Try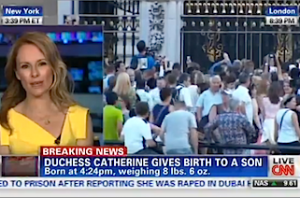 With the royal baby birth happening Monday, all of the cable news networks have been reaching out to commentators who can offer a uniquely British take on the momentous news. Shortly after the announcement that the Duchess of Cambridge, Kate Middleton, had given birth to a healthy baby boy, CNN's Brooke Baldwin welcomed British native Victoria Arbiter to the air, who proceeded to praise Middleton's "brilliant" achievement in spawning a male child.
Arbiter, who lived in Kensington Palace for many years when her father served as press secretary for the Queen, began by saying how "thrilled" she was that we "finally, after all this waiting, know that we have a boy."
"My first thought, I have to say," she continued, "was this is how brilliant a royal Kate is. There are women throughout British royal family history that have panicked over not being able to deliver a boy. And here we are, Kate did it first time."
Arbiter noted that this means the "change in the laws of succession conversation" will be over for another generation, referring to the proposed change that would allow a first born child to be next in line for the throne regardless of gender.
Discussing another quirk of British royal tradition, Baldwin remarked that before Middleton could wed Prince William, his family had to first make sure that she could bear a child. Rejecting the notion of the "arranged marriage," Arbiter suggested that this custom was no longer in place and "at the end the day" the royal family only wanted William to marry someone he loved.
Watch video below, via CNN:
—
>> Follow Matt Wilstein (@TheMattWilstein) on Twitter
Have a tip we should know? tips@mediaite.com